WELCOME TO
THE ULTIMATE RAVIOLI.COM
HANDMADE RAVIOLI and TOASTED RAVIOLI BY DOLLY and PAUL GARAVAGLIA
PAUL M. GARAVAGLIA 1931 TO 2016
FRANCELLE N. (DOLLY) GARAVAGLIA 1937 TO 2016
This website is now a tribute to my parents and all the hard work they have done over the years making raviolis as well as their ten plus years in the family restaurant business at Pasta 'n More in St. Louis. (We closed down at the end of 1997.) The passing of my father Paul on January 3, 2016 and my mother Dolly on June 12, 2016, has made further updates to this site not necessary. I will still maintain the website for all to view. The recipe will always be kept in the Garavaglia Family. Thank you!
Sincerely, Bob Garavaglia, son, the webmaster.
June 14, 2016
This site describes a step by step process on how we produce the ravioli, and the toasted ravioli. The family recipe is over 100 years old. The northern Italian recipe was handed down by Emilia Garavaglia who along with her lady friends, made and cooked hundreds of ravioli dinners at Big Club Hall on The Hill, an Italian neighborhood in St. Louis. The ingredients include roast pork, beef, roasted vegetables, parmesan cheese, and spices mixed together, and rapped with our signature soft dough. The thin, soft dough, makes the ravioli exceptionally tender, especially when the ravioli is toasted.
Toasted ravioli are made by breading the regular ravioli with seasoned Italian bread crumbs and deep fried, or pan fried at 350 degrees in vegetable oil. The golden brown toasted ravioli are served with parmesan cheese, and meat sauce for dipping.
Breading ravioli takes just a few minutes. You begin by mixing egg with milk in a medium bowl to make egg batter, then in another bowl add seasoned Italian bread crumbs. If you don't want to make your own bread crumbs, you can purchase seasoned Italian bread crumbs at any super market. Dip only 6 frozen ravioli at a time in the egg batter, and stir them in the batter for about 15 seconds with a slotted spoon. Remove the ravioli from the batter and roll them in the bread crumbs. When the ravioli are completely coated place them on a tray and keep them frozen until ready to fry. FOR DETAILED BREADING DIRECTIONS, CLICK ON THE RAVIOLI BREADING DIRECTIONS BUTTON AT THE BOTTOM OF THE PAGE.
Our meat sauce is made with beef stock. The beef stock is mixed with quality tomato products, and includes ground sirloin, onions, tomato paste, carrots, celery, sweet basil, and parsley.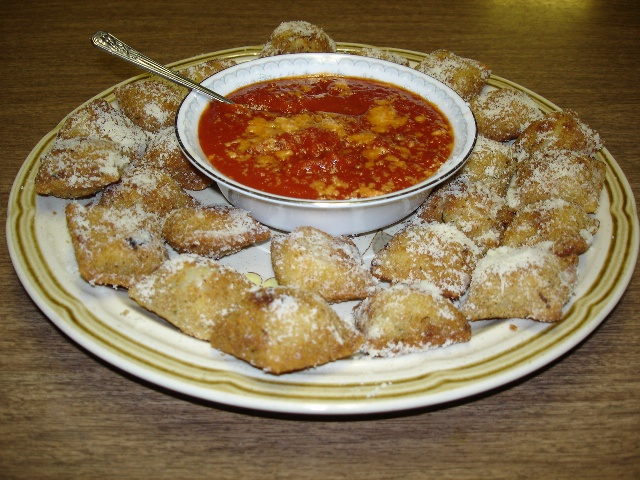 RAVIOLI WITH MEAT SAUCE TOASTED RAVIOLI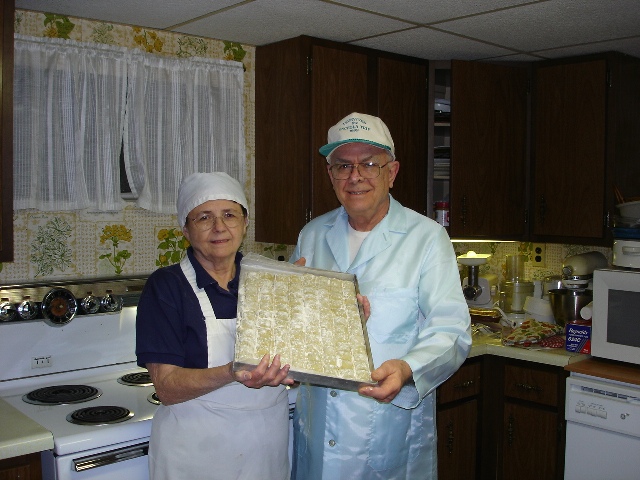 Thank you for viewing our site.
The Ultimate Ravioli.com is hosted by agreement with TravelingOz.com which provides our web hosting space.

Page updated Wednesday August 15, 2018 06:38:54 PM
Terms and Conditions Copyright © 2004 - 2016 Paul M. Garavaglia. All rights reserved.