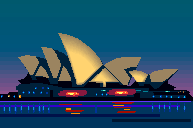 TRAVELINGOZ .COM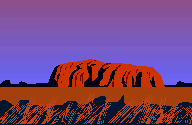 More 2003 Australia Trip Pictures
The following pictures were taken by a friend who was on the trip with me. Just click on the thumbnail to view the larger picture.
All pictures on my site remain the property of TravelingOz.com and are for personal viewing use only. If you would like to contact me regarding any other use, please email me here. You are more than welcome to use any of these as desktop pictures. All I ask is you let me know via email. It's nice to know who is interested.
To use a picture as a desktop picture in Windows, view the photo, right click on it, and select "set as background".
All photos copyright © 2003 TravelingOz.Com All rights reserved. Used by permission.
All photos above are Cradle Mountain Lake in Tasmania.
Hobart, Tasmania Hobart, Tasmania Syd Opera House Sydney Mountain Roos
Blue Mountains Blue Mountains Sydney Eastern Shore Beaches. Sydney Center
Hamilton Island Outback Road Camel Rides Ayers Rock Outback Road
Page updated March 16, 2010 02:08:32 PM