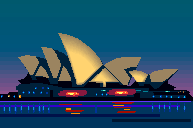 TRAVELINGOZ .COM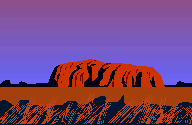 On this page you can view pictures that I have taken on my 2003 trip. Enjoy! Please email me with any comments.
All pictures on my site remain the property of TravelingOz.com and are for personal viewing use only. If you would like to contact me regarding any other use, please email me here. You are more than welcome to use any of these as desktop pictures. All I ask is you let me know via email. It's nice to know who is interested.
To use a picture as a desktop picture in Windows, view the photo by clicking on the thumbnail, right click on it, and select "set as background".
Bob
All photos copyright © 2003 Robert C. Garavaglia, TravelingOz.Com All rights reserved.
Click here for an additional page of 2003 trip pictures.
2003 Trip Pictures:
Sydney Tower Kings Cross Sydney Hard Rock Sydney Tower Hyde Park
Sunrise in Sydney Kangaroos Blue Mountains Blue Mountains Three Sisters
Three Sisters Three Sisters Three Sisters Three Sisters Sydney Opera House
Sydney Center Across Harbor Night Fall Hamilton Island Hamilton Island
Hamilton Island Resort Catseye Beach Out on the Reef Alice Springs Old Telegraph Station
Outback NT Wild Animal Show Mt Connor Endless Road The Olgas
Ayers Rock NT The Climb The Base Sunset View Sunset View
Late Sunset Sunset Reflection Outback Sunrise Don't forget your net! Kings Canyon, NT
Kings Canyon, NT No Speed Limit!! Outback Rainbow Outback Sunset Outback Sunset
Click here for an additional page of 2003 trip pictures.
Page updated March 24, 2017 11:51:25 PM