WBØQXW.NET KØYCV.NET
WBØQXW VK2STL KØYCV WPXG847
KAØPWL NØIIY NØIIZ
53.410 145.210 444.150 462.725 (GMRS)
FIVE TWO ONE AMATEUR RADIO GROUP
ESTABLISHED IN JANUARY, 1980.
THE OLDEST CONTINUOUS HAM RADIO "GROUP" IN ST. LOUIS.
OUR 44TH ANNIVERSARY IN 2024.
PROVIDING THE BEST ANALOG FM REPEATERS IN ST. LOUIS.
"NO DIGITAL REPEATERS HERE. WE'RE OLD SCHOOL."
"LOCK IT IN AND RIP THE KNOB OFF!"
HAPPY HOLIDAYS FROM EVERYONE AT THE 521 ARG!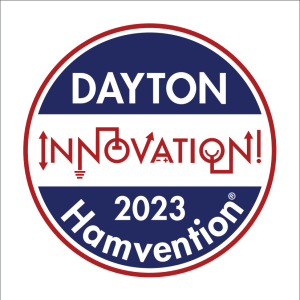 CLICK THE LOGO ABOVE TO ACCESS THE HAMVENTION WEBSITE.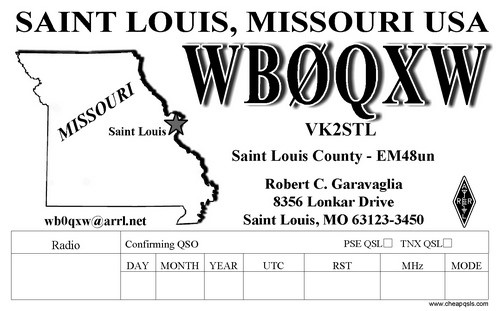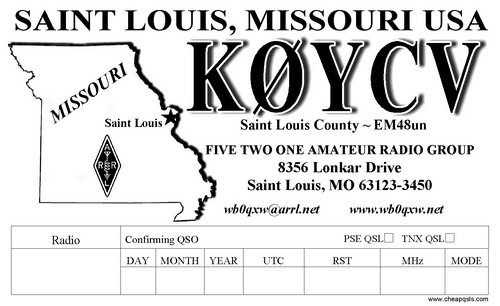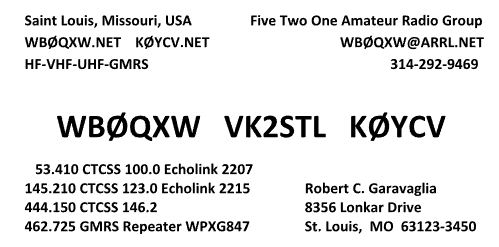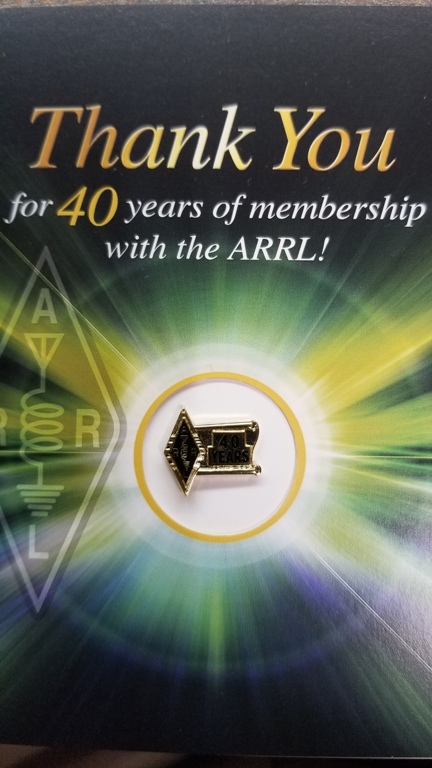 ABOVE ARE MY QSL CARDS, EYEBALL QSL CARD, AND MY ARRL 40 YEAR MEMBERSHIP PIN RECEIVED IN 2015.
CLICK THE PICTURE BELOW FOR THE LIVE CAMERA.
IMAGE DATE IS NOVEMBER 12, 2019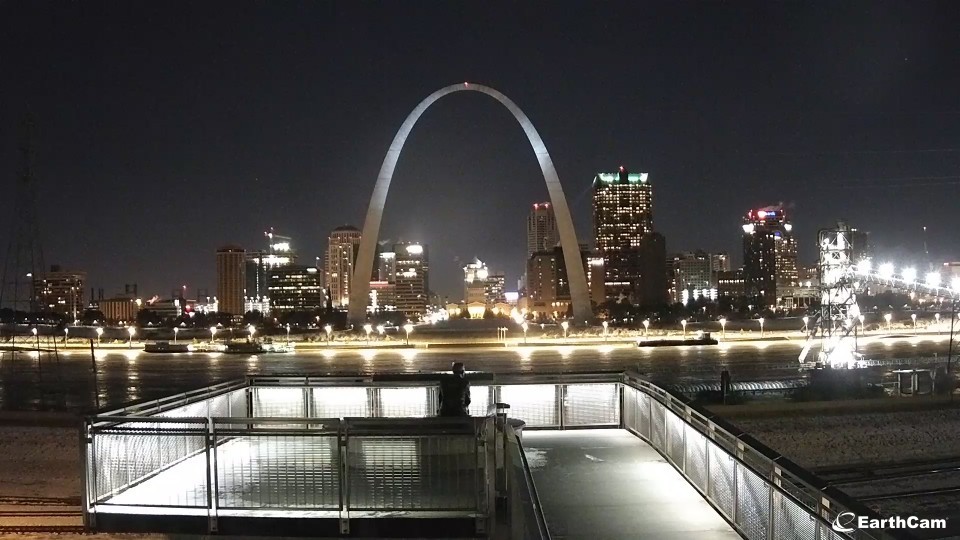 <---SCAN THIS QR CODE WITH YOUR PHONE.
IF YOU WOULD LIKE TO DONATE TO THE GROUP, PLEASE USE THE BUTTON OR QR CODE ABOVE. NO OBLIGATION.
ANY DONATIONS RECEIVED WILL GO ENTIRELY TO DEFRAY THE REPEATER SITE EXPENSES. WE THANK YOU FOR YOUR SUPPORT.
IF YOU HAVE ANY QUESTIONS REGARDING YOUR DONATION, PLEASE DO NOT HESITATE TO EMAIL WBØQXW HERE.
USE WBØQXW@CHARTER.NET DIRECTLY ON PAYPAL IF YOU WISH TO BYPASS THE DONATE BUTTON OR QR CODE - WBØQXW.
GROUP NEWS
UPDATED DECEMBER 8, 2023
THE ECHOLINK NODE IMPROVEMENTS HAVE BEEN COMPLETED AND THE NODE IS FULLY OPERATIONAL.
ADVANCED TICKETS FOR THE 2024 DAYTON HAMVENTION ARE NOW AVAILABLE BY MAIL ORDER ONLY. DOWNLOAD THE FORM AT HAMVENTION.ORG.
THE NEXT MONTHLY DINNER IS JANUARY 2, 2024 . CONTACT US IF YOU WOULD LIKE TO ATTEND AND TO CONFIRM THE LOCATION IF DIFFERENT.
IT HAS BEEN DECIDED THAT THE 6 METER PROJECT WILL CONTINUE. ONCE THE REPEATER GOES LIVE, THE DETAILS WILL BE LISTED ON THIS PAGE.
CHECKOUT THE RARE MUNSTERS HAM RADIO VIDEOS AND A SHORT TIM ALLEN LAST MAN STANDING VIDEO ON THE VIDEOS PAGE BY CLICKING HERE.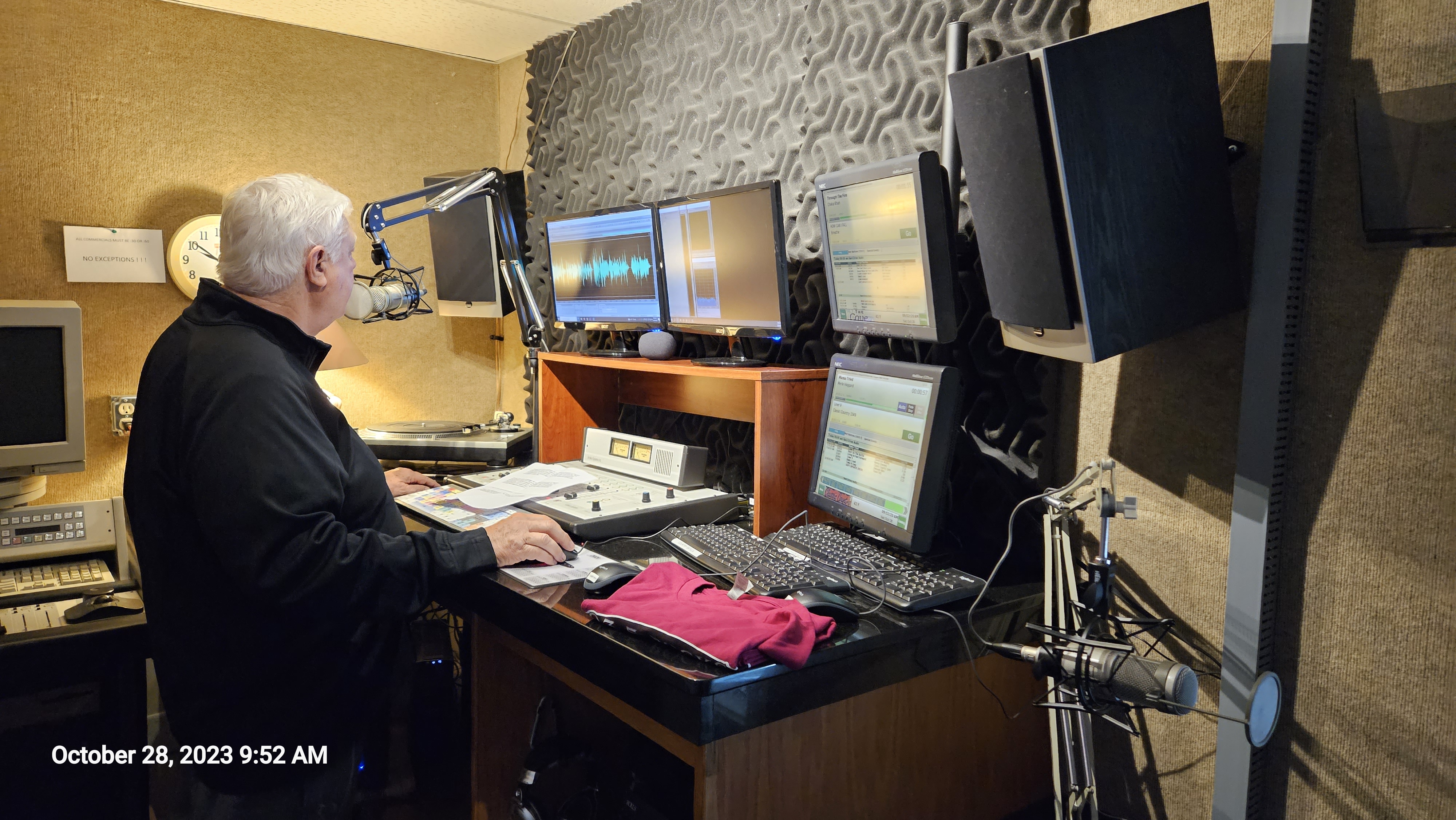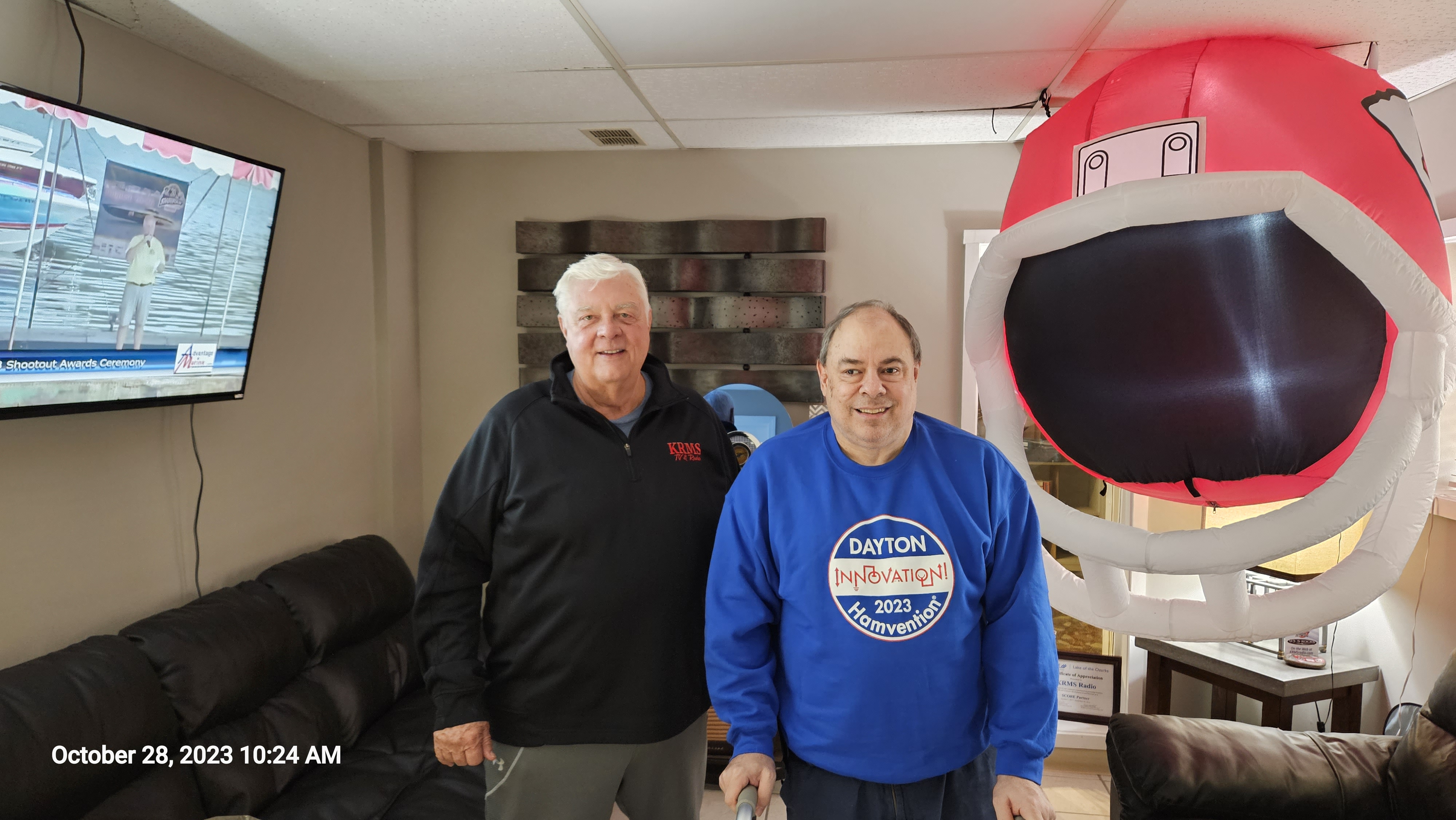 DENNIS AND BOB, WBØQXW, AT THE STUDIOS OF KRMS RADIO AND TV, LAKE OF THE OZARKS, RECORDING TRACKS FOR THE VHF AND UHF REPEATERS.
IMPORTANT NOTE ABOUT CTCSS TONE SQUELCH.
WHEN TUNED TO EITHER THE 145.210 AND / OR 444.150 REPEATERS, PLEASE DO NOT USE TONE SQUELCH ON YOUR RECEIVER.
USE TONE ENCODE ON YOUR TRANSMITTER ONLY. (123.0) THE TONE SQUELCH SETTING IS USED BY THE ECHOLINK REMOTE BASE.
THIS IS BECAUSE THE ECHOLINK NETWORK MUST SEE RECEIVE AUDIO ONLY FROM THE REPEATERS. NO EXTRANEOUS AUDIO.
THE CTCSS TONE OF 123.0 IS PRESENT ON THE REPEATER TRANSMITTERS ONLY IF THE REPEATER RECEIVER HEARS AN INCOMING SIGNAL.
THOSE WITH THE WRONG TONE MODE WILL NOT HEAR THE COURTESY TONES, TIME CLOCK ANNOUNCEMENTS, OR VOICE AND CW ID'S.
MOST IMPORTANTLY, YOU WILL NOT HEAR THE WEATHER RECEIVER ALERTS ON 145.210 IF YOUR RADIO IS ON TONE SQUELCH.
THIS HAS CAUSED CONFUSION BY NOT HEARING THE FULL OUTPUT AUDIO. IF YOU DO NOT HEAR THE COURTESY TONE, YOUR SETTING IS WRONG.
A NOTE ON GMRS FOR THOSE GOING TO THE KANSAS CITY AREA.
A MEMBER OF OUR GROUP, WØDMT, KEITH, HAS PUT UP A GMRS REPEATER IN SHAWNEE MISSION, KANSAS. ON THE WESTERN SIDE OF THE KC METRO AREA.
FOR THOSE WISHING TO USE THE REPEATER, THE SYSTEM IS ON THE SAME FREQUENCY (462.725) AND CTCSS TONE AS OUR GROUP HAS HERE IN ST. LOUIS.
THE MEMBERS OF OUR GROUP ARE INVITED TO USE THE SYSTEM. ID YOUR CALL LETTERS AND UNIT NUMBER.
ALSO, THE 462.700 GMRS REPEATER WITH A CTCSS TONE OF 100.0 HZ IS AVAILABLE IN KANSAS CITY. BOTH OFFER GOOD COVERAGE.
WHILE OUR GMRS REPEATER HERE IN ST. LOUIS IS RESTRICTED TO AUTHORIZED USERS, MOST OF THE KC SYSTEMS ARE OPEN TO ANYONE. (WITH A LICENSE.)
PLEASE BE FRIENDLY TO THE REGULAR USERS WHILE YOU ARE IN KANSAS CITY AS THE GMRS SYSTEMS ARE MORE ACTIVE (MORE REPEATERS.) THEN ST. LOUIS.
CONTACT WBØQXW WITH ANY QUESTIONS ABOUT THIS NOTICE OR GMRS IN GENERAL.
THE ABOVE VIDEOS ARE GREAT! A 6 YEAR OLD HAM IN 1992. (SHE NOW ABOUT 37.) AND A DOCUMENTARY ON HAM RADIO.
CLASSIC THREE STOOGES ON MORSE CODE.
THE WORLD RADIO TV HANDBOOK IS BACK! THE 2023 WRTH CAN BE PURCHASED BY CLICKING HERE.
THE BEST BOOK FOR RADIO AND SHORTWAVE LISTENING.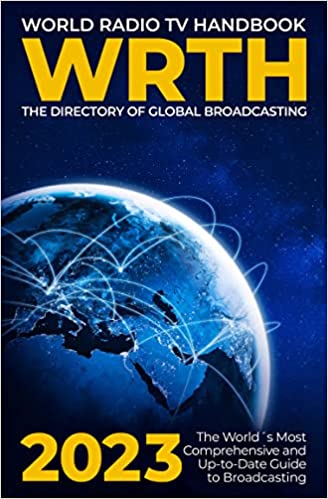 FCC STREAMLINES PART 95. INCLUDING GMRS, FRS, AND CB RADIO. CLICK HERE FOR THE DETAILS.
THE ABOVE VIDEO IS FROM GROUP MEMBER MIKE, KDØBQS, EXPLAINING AIRSPY AND SDR'S.
My name is Bob Garavaglia, WBØQXW, and I have been a Ham Radio Operator since 1975. Welcome to the 521 Amateur Radio Group (521 ARG) webpage. All the members of my immediate family are also Hams. They are, my brother Carl, KAØPWL; my sister Judy, NØIIY; and my brother-in-law Ron, NØIIZ. Our group also has a club call sign, KØYCV for use in group activities such as Field Day or camping trips. Our club call sign is now a vanity call sign once held by my father for over 56 years. A perfect way to have his call sign live on as a tribute to him.
I also hold an Advanced license in Australia with the call sign of VK2STL, which I have held for over 36 years.
The advantage of our group is that there are no club rules. No bi-laws, No board of directors. No elections. No mandated dues. No politics that are associated with some clubs in the area. (No names here. Sorry! You are free to guess which ones.) There is no "voting" up or down any person who wants to be part of the group. Everyone is treated the same. Everyone respects each other. Everyone is welcome on our repeaters and at our social activities. This has been the case for over 42 years and will remain so. This is a judgment free zone. Anyone who disagrees with these policies is free to move on to join other groups or clubs. THERE ARE NO STRANGELY WORDED MANIFESTOS ANYWHERE ON OUR WEBSITE.
If you are new to Amateur Radio, the members of our group will be glad to assist you with the hobby. The group is quite diverse and between the members we all have years if not decades of experience. From VHF and UHF to the low bands, antennas to repeaters, mobile operating to equipment advice. We can help you.
The 521 ARG has operated two repeaters in the St. Louis, MO area for 43 years. The 145.210 and 444.150 repeaters. Over the years the machines have been updated and serviced to provide excellent coverage and reliability. In 2006, our repeater site underwent six months of renovations as well as equipment upgrades and modifications including the repeater controllers, receivers, and transmitters. In July, 2009, Echolink was added to the system on the VHF side. Many thanks to John, K1IF for providing the assistance to get it up and running. More information on Echolink is further down this page. In October, 2014, a new antenna for our 145.210 repeater was installed. A 25 foot commercial VHF antenna from Andrew Communications to provide even better coverage to our wide area system. The model is a Andrew DB224-E 6 db gain 138 - 150 MHZ broadband antenna. A new TX-RX duplexer provided by Bird Electronics for 145.210 was installed on January 9, 2016. In August, 2016, a new antenna from PCTEL, a commercial 7 db omni was installed on our UHF repeater, 444.150. The UHF repeater also has been serviced and updated. A new UHF TX-RX duplexer provided by Bird Electronics was installed in September, 2016.
145.210 now has the new CAT 800 controller and weather receiver along with internet connectivity. The repeater now has more control and update flexibility. The new WAV player has great sounding voice ID's and announcements played directly from a WAV file. The 444.150 repeater also has the CAT 800 controller. The only difference between the two is that there will be no weather receiver. All features will be the same.
Our site also houses our third system, a commercial Kenwood GMRS band UHF repeater on 462.725. My GMRS license is WPXG847. If you would like information on using GMRS, please contact me. A ten year license application fee is $35.00 is required. See the FCC website for details. The rules are covered in FCC part 95. One license covers your family members. A unit number for each person is assigned and approved by the system owner. Permission to use the system is required. The FCC streamlined the part 95 rules. See the link on this page for further details.
The upgrades to all of the repeaters (Except GMRS.) will enable us to keep up with the latest analog RF and controller technology, improve reliability, and improve our already outstanding coverage.
Thanks to all the individuals who have helped and supported our group over the last 44 years. We could not have gotten this far without you. You know who you are. There has been a lot of changes over the years and we keep going.
I have been a regular attendee at the Dayton Hamvention® since 1976. I have been a member of the ARRL since 1975.
The group has an eyeball on the first Tuesday of the month at 6:30 pm. The location is in the South County area. Contact one of the group members or monitor 145.210 for the location.
The Echolink remote base for 145.210 consists of a Kenwood V71A transceiver with the built in node controller, an HP Desktop running Windows 11 with the Echolink software, and linked to the Echolink network via a 1 gigabit internet connection provided by Charter Spectrum. The node is currently set for 15 simultaneous connections. The remote base also has a battery backup. For details about accessing the node via the RF link, email me. Anyone can access the system as long as I know who requests the information and that you have the proper FCC license to do so. Keep in mind that you must follow my policy regarding access. A control operator may intervene if there is a violation. This is done so that everyone has a chance to use the system. The 145.210 node number is 2215. KØYCV-L. For more information on Echolink visit echolink.org.
Effective immediately, our association with the World Friendship Net has ended. As a result, the group now holds it's own net on Monday at 7:00 pm on 145.210 with Echolink connections via the 145.210 node. Those wishing to connect to my node directly via KØYCV-L (node number 2215) may do so.
Nifty Ham Radio Accessories publishes the Nifty E-Z Guide to Echolink Operation. Click here to order it.
If you would like to contact me, click here to send me an email or look on one of the QSL cards above.
------------------------------
FRANCELLE N. (DOLLY) GARAVAGLIA, WBØSDZ 1937 TO 2016
PAUL M. GARAVAGLIA, KØYCV 1931 TO 2016.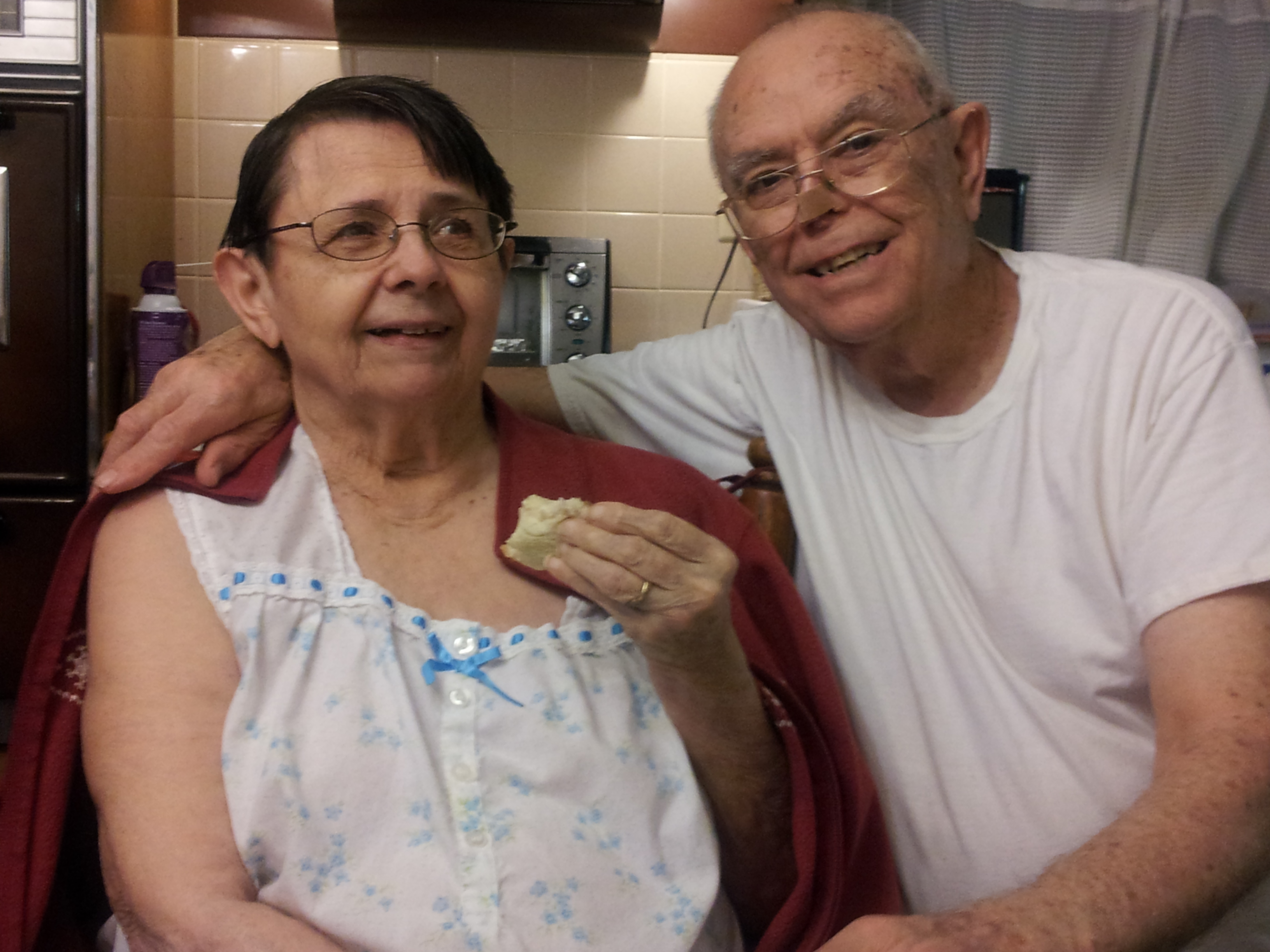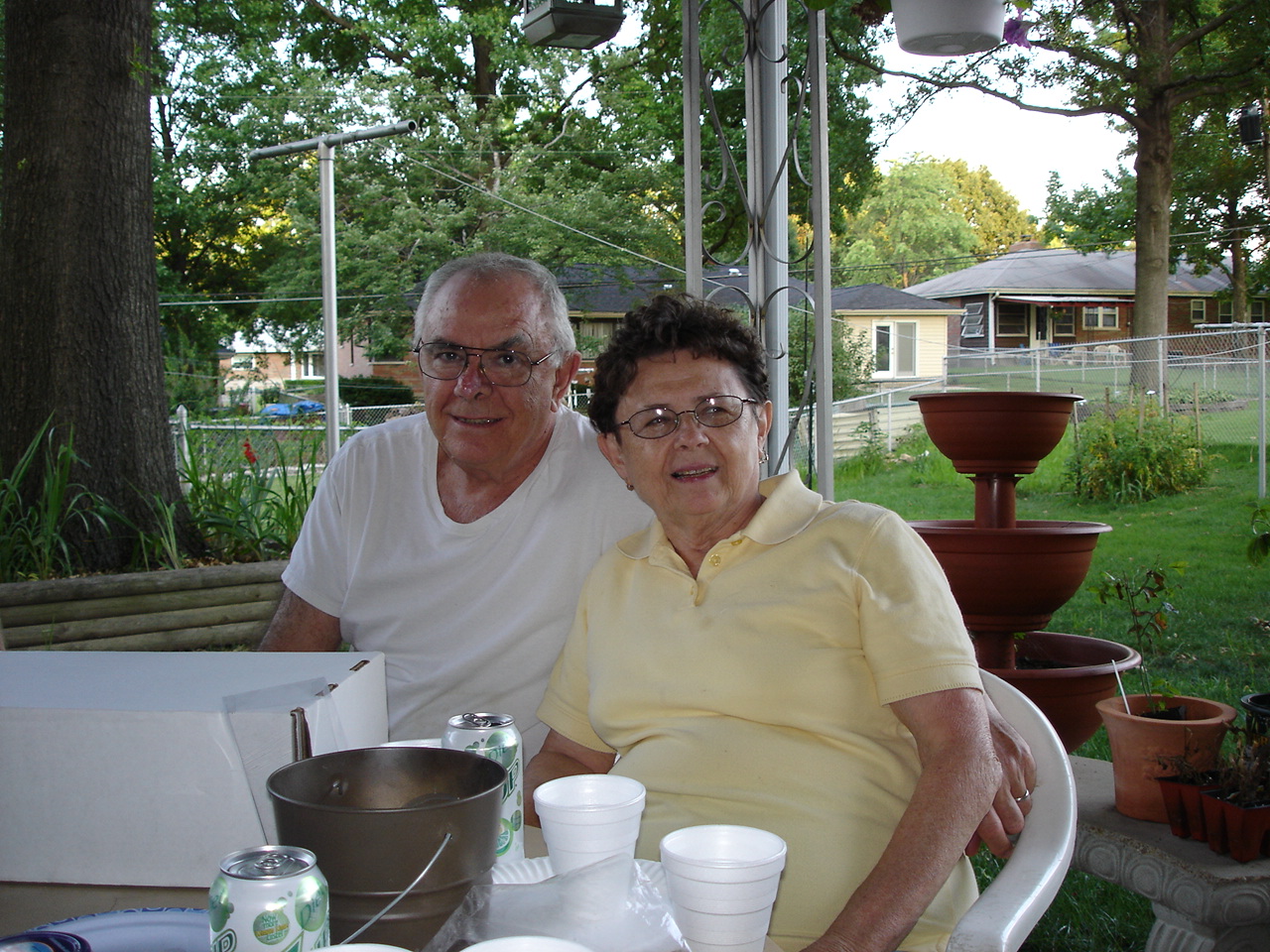 LEFT, DOLLY, WBØSDZ, AND PAUL, KØYCV IN NOVEMBER, 2014. RIGHT, IN A PICTURE TAKEN JULY 23, 2007.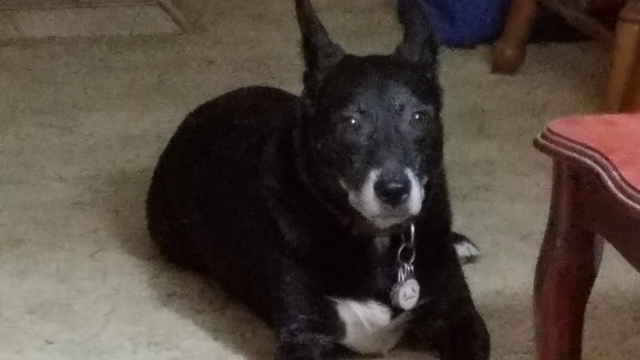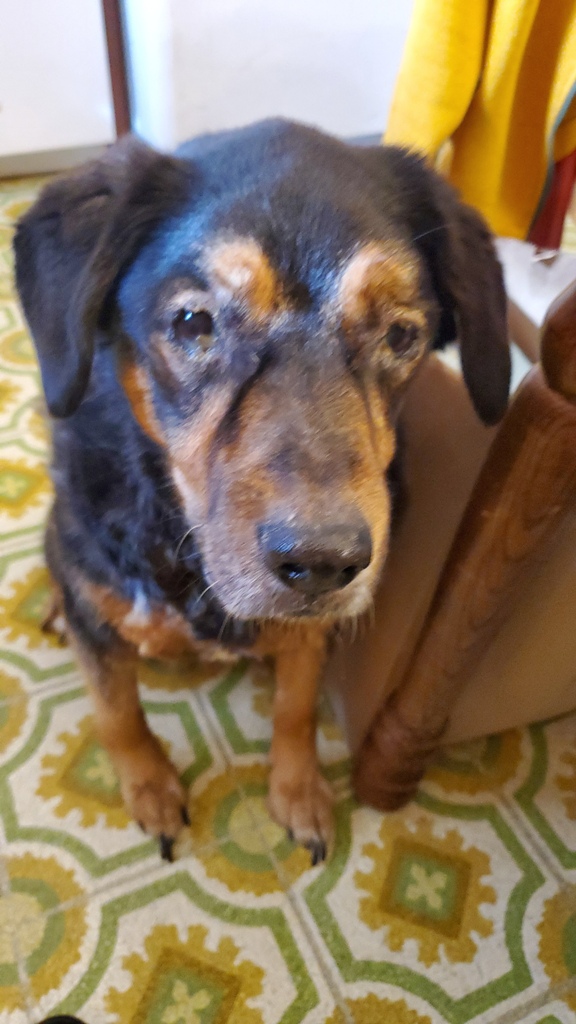 LEFT: SHARKY. NOVEMBER 20, 2009 TO JUNE 15, 2018. RIGHT: COOPER. 2006 TO FEBRUARY 15, 2020. RIP.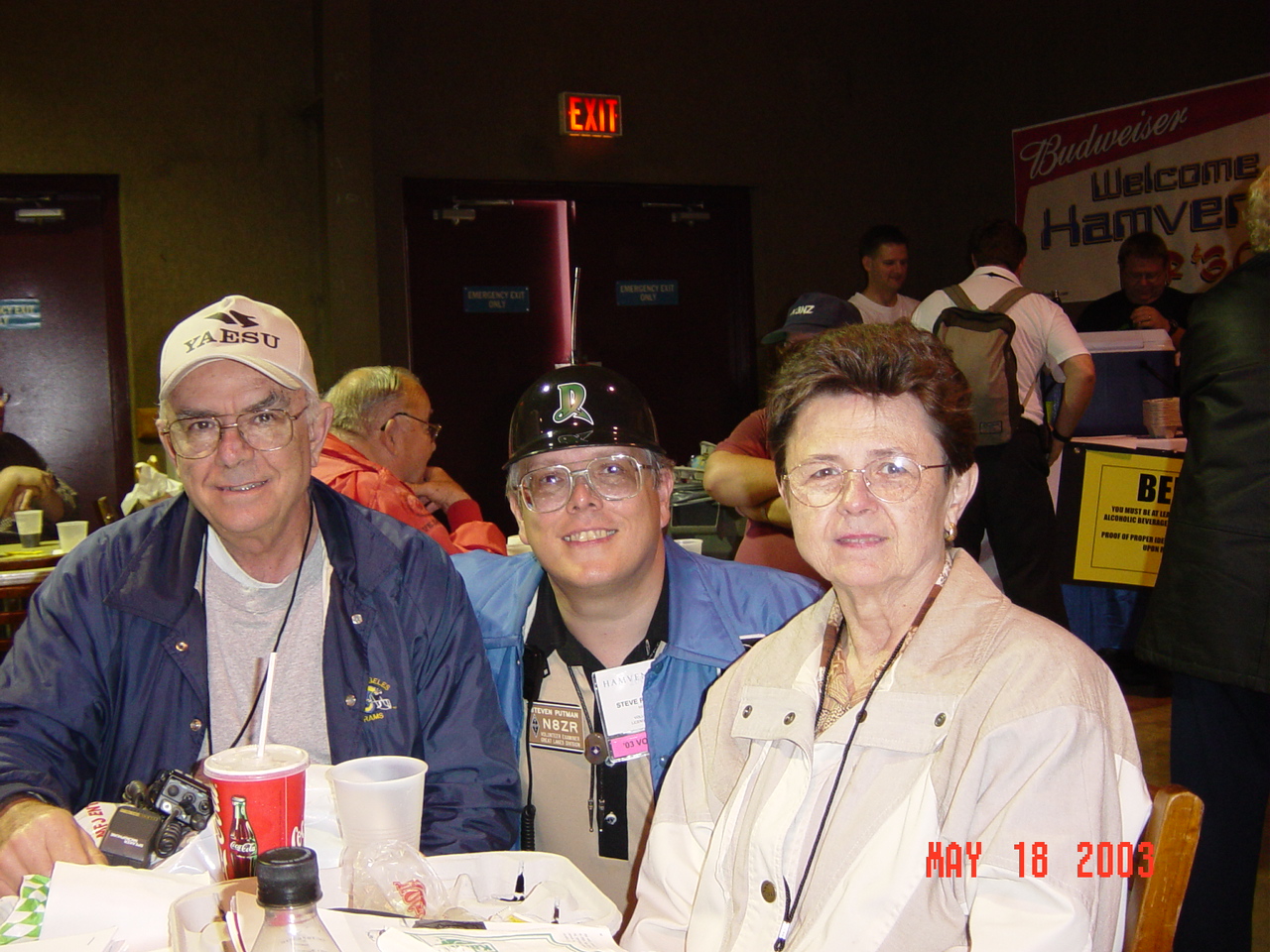 ABOVE: SILENT KEYS PAUL, KØYCV, STEVE, N8ZR, AND DOLLY, WBØSDZ AT HAMVENTION 2003.
------------------------------
CLICK HERE TO LISTEN TO THE ARRL HAM RADIO PSA FROM 2005.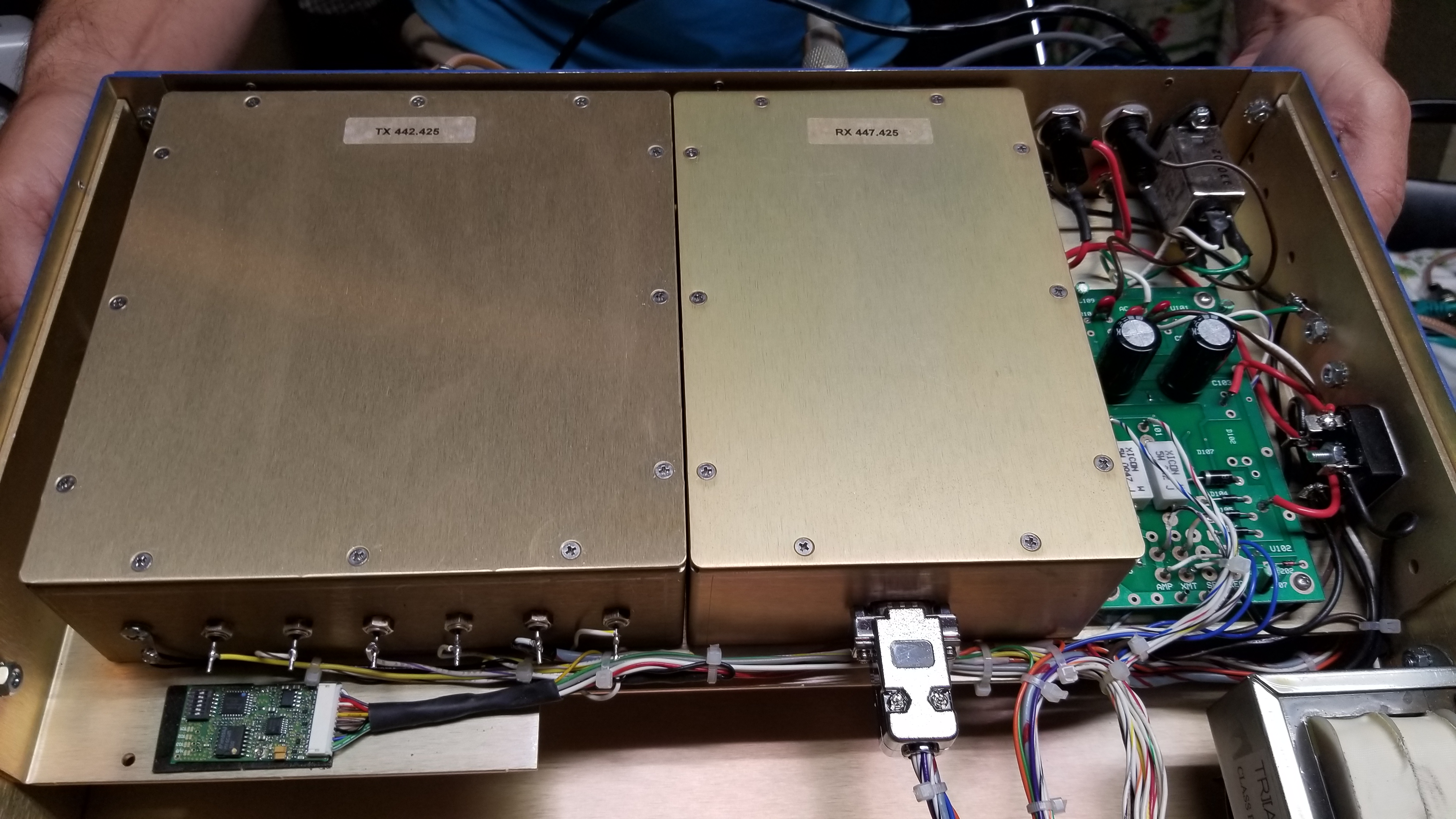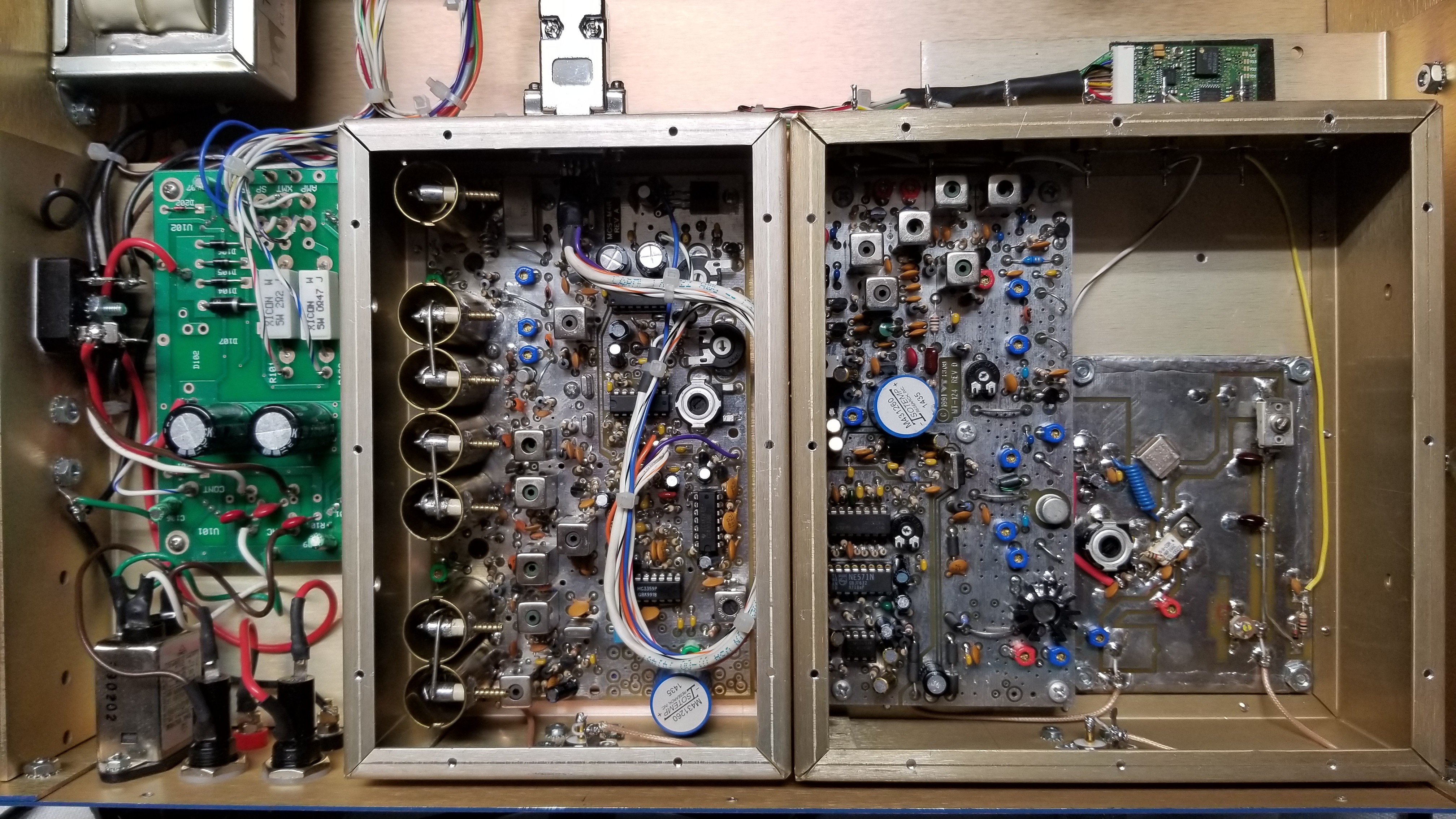 145.210 and 444.150 ACS 6000 REPEATER INSIDE CHASSIS VIEW. RIGHT PHOTO: POWER SUPPLY, RECEIVER, TRANSMITTER. PL DECK (UPPER RIGHT).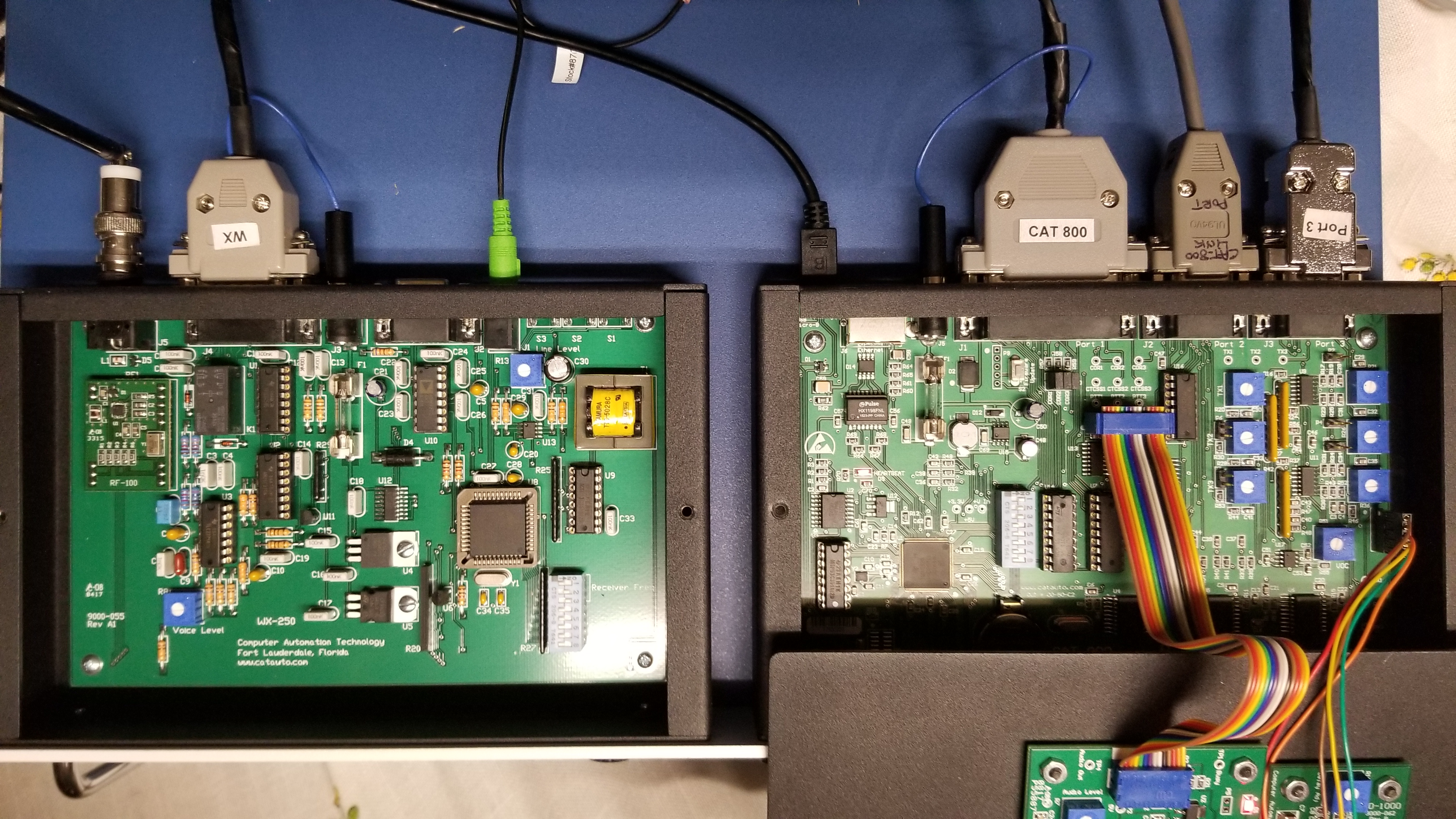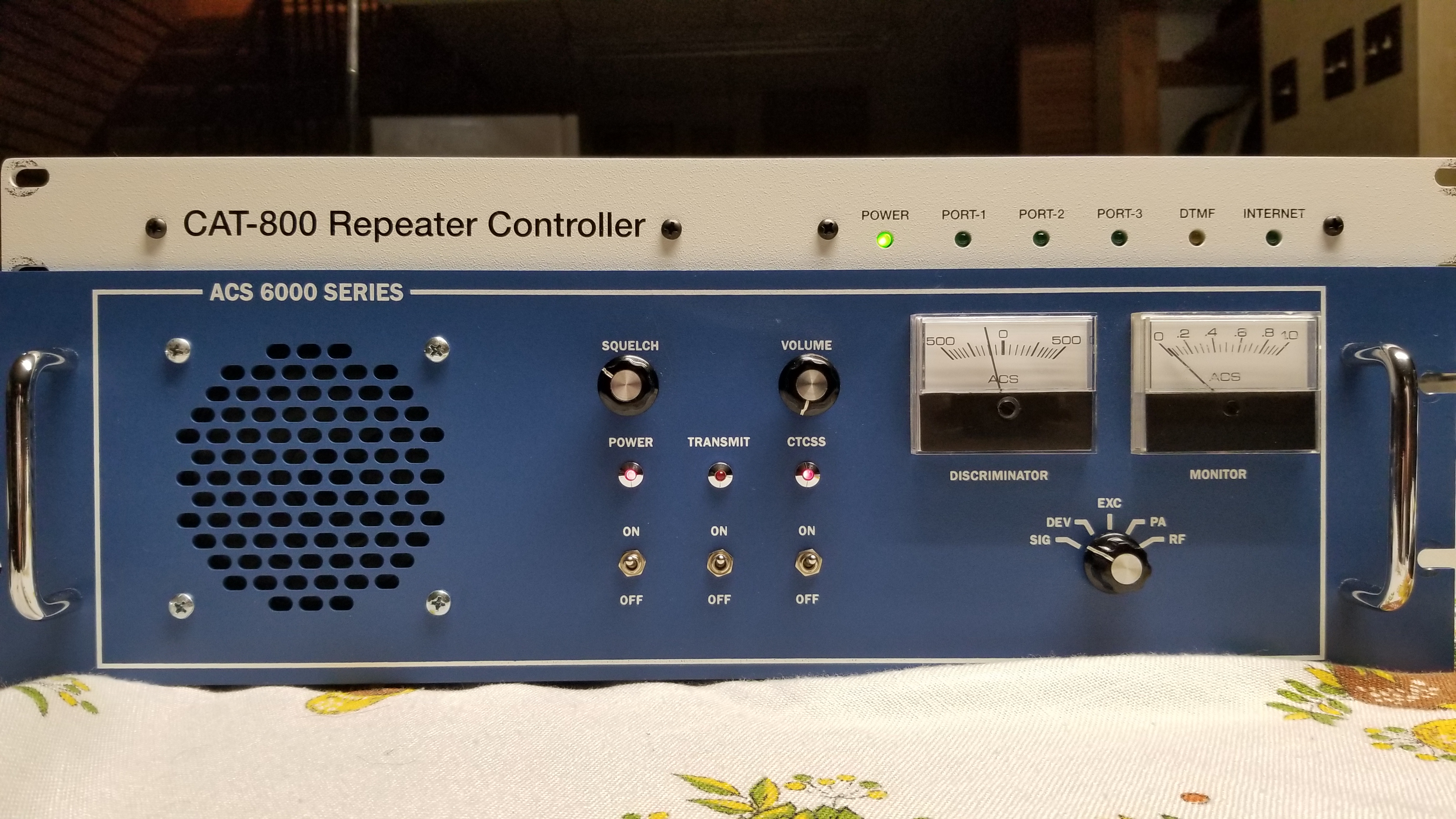 LEFT: WEATHER RECEIVER AND CAT 800 WITH WAV PLAYER FOR 145.210, 444.150, AND 53.410 MHZ. RIGHT: 444.150 REPEATER IS CAT 800 ONLY. (BACKUP PICTURED)
THERE WILL BE AN AUDIO DELAY OF A FEW MINUTES IN REAL TIME ON THE INTERNET FEED.
REPEATER STATUS REPORT OCTOBER 16, 2023.
REMINDER: BOTH THE 145.210 AND 444.150 REPEATERS ARE TURNED OFF BETWEEN 1:00 AM AND 7:00 AM EACH DAY.
NOTE: THE 145.210 WEATHER RECEIVER WILL TRANSMIT ALERTS EVEN THOUGH THE REPEATER MAY BE OFF.
145.210 AND 444.150 HAVE THE SAME CONTROLLERS. HOWEVER THEY ARE INDEPENDENT OF EACH OTHER.
145.210 REPEATER EMERGENCY RF POWER OUTPUT IS 10 WATTS.
IMPROVED EMERGENCY POWER EQUIPMENT IS BEING INSTALLED SOON FOR BETTER STABILITY.
THE FAMOUS CLASSIC VOICE ID'S MADE AT KMOX AND KRMS RADIO ARE NOW LOADED ON TO BOTH CAT 800 CONTROLLERS.
WBØQXW WAS FEATURED ON AN AMATEUR RADIO NEWSLINE ID BREAK. CLICK HERE AND CLICK HERE TO LISTEN TO BOTH OF THEM..
PROVIDING THE BEST REPEATERS, RELIABILITY, AND COVERAGE IN THE ST. LOUIS METRO AREA SINCE 1980.
****
53.410: REPEATER BUILD OUT IN PROGRESS. WORK CONTINUING. STAY TUNED.
****
145.210: "THE BLOWTORCH" ONLINE. 165 WATTS TO ANTENNA. 6 DB GAIN. 660 WATTS ERP AT 765 FEET ASL.
CONTROLLER UPGRADE INCLUDES THE CAT 800, AND WEATHER RECEIVER FOR ST. LOUIS AREA ALERTS.
PLEASE USE CTCSS TONE 123.0 FOR INBOUND. OUTBOUND IF NEEDED.
CTCSS TONE 123.0 ON TRANSMIT CARRIER IS RECEIVE AUDIO ONLY.
ECHOLINK IS OPERATIONAL AND CAN BE ACCESSED ON NODE NUMBER 2215. KØYCV-L.
WORLD FRIENDSHIP NET EVERY MONDAY AND FRIDAY NIGHT 7:00 PM. FOLLOWED BY NEWSLINE.
VIEW THE 145.210 LISTING ON REPEATERBOOK.COM.
****
444.150: "MINI BLOWTORCH" ONLINE 100 WATTS TO ANTENNA. 433 WATTS ERP AT 765 FEET ASL.
THE REPEATER IS NOW CONVERTED TO THE CAT 800 AND IS OPERATIONAL. NO WEATHER RECEIVER.
THE UHF REPEATER IS NOW ON CTCSS FULL TIME. USE TONE 146.2 INBOUND. OUTBOUND IF NEEDED.
CTCSS TONE 146.2 ON TRANSMIT CARRIER IS RECEIVE AUDIO ONLY.
VIEW THE 444.150 LISTING ON REPEATERBOOK.COM.
****
462.725: THE GMRS COMMERCIAL REPEATER IS ONLINE AND OPERATING NORMALLY. 50 WATTS OUTPUT.
ACCESS IS RESTRICTED. A GMRS LICENSE AND USE PERMISSION IS REQUIRED.
DO NOT USE WITHOUT PERMISSION OF THE TRUSTEE / OWNER PER FCC PART 95 RULES.
NOTE: OUR GMRS REPEATER CHANNEL IS SHARED WITH A MACHINE IN COLLINSVILLE, IL.
****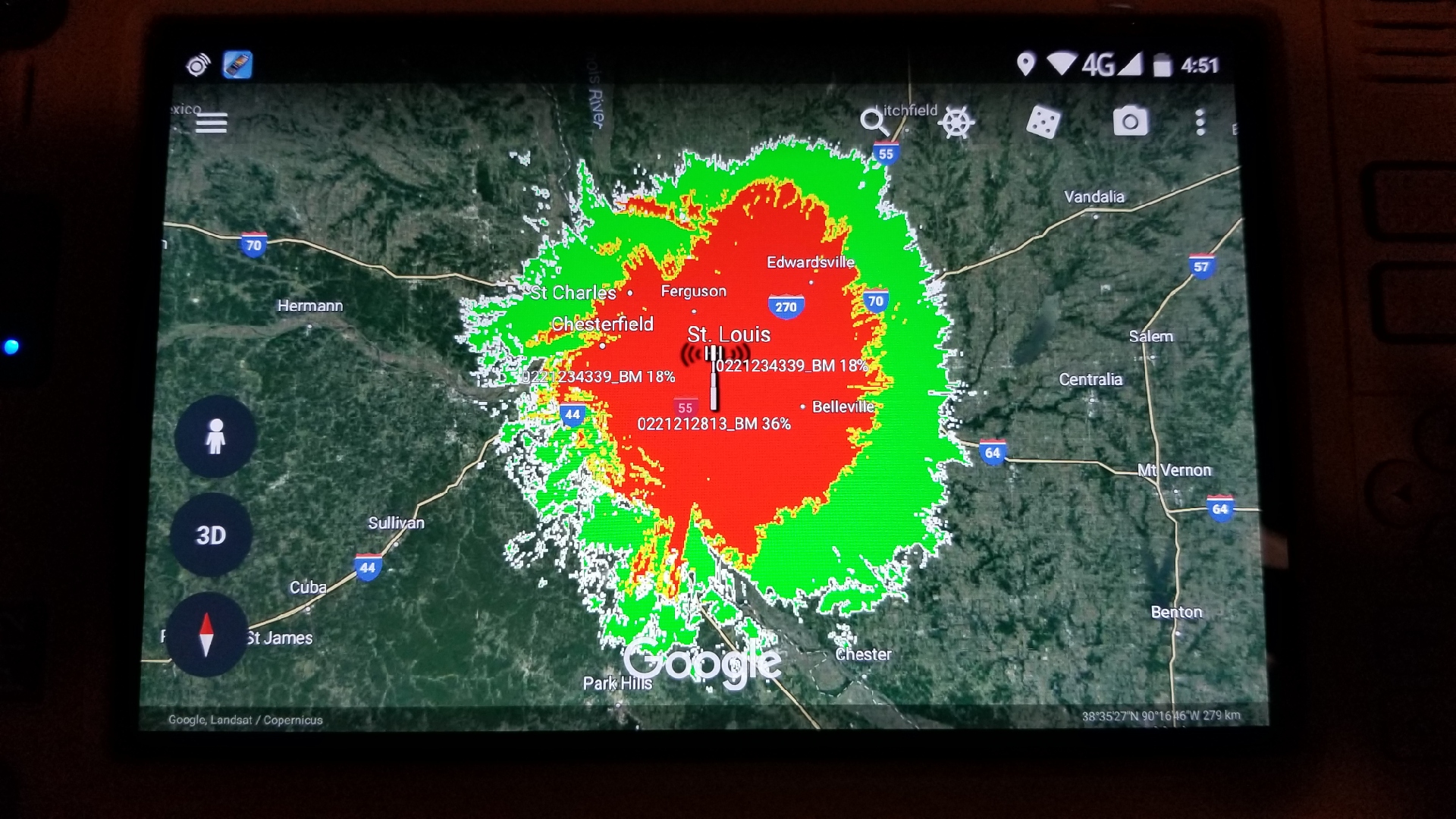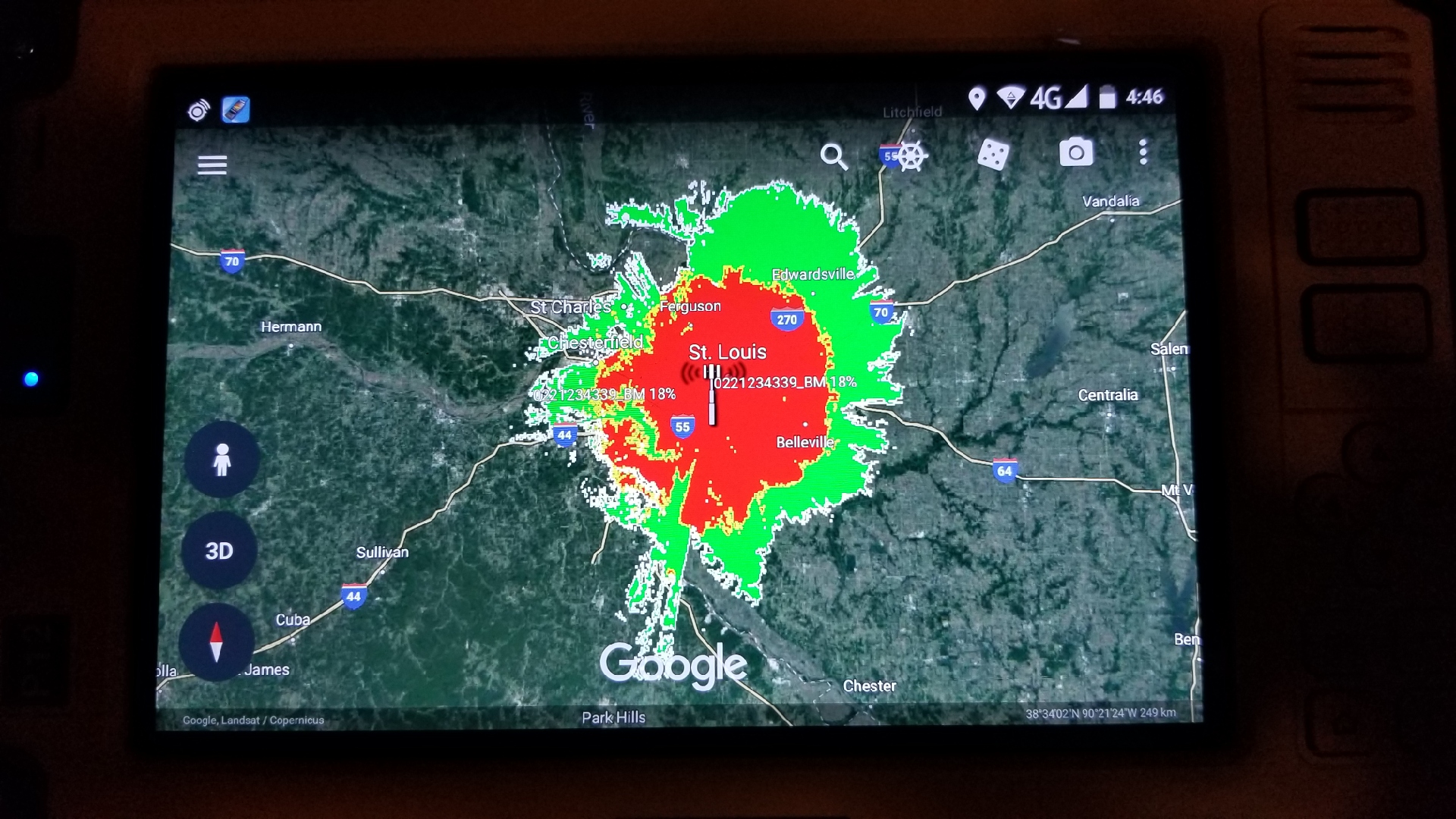 LEFT: THE 145.210 REPEATER COVERAGE AREA ESTIMATE. RIGHT: THE 444.150 REPEATER COVERAGE AREA ESTIMATE.
Please sign my guestbook. Click the button below. Thanks.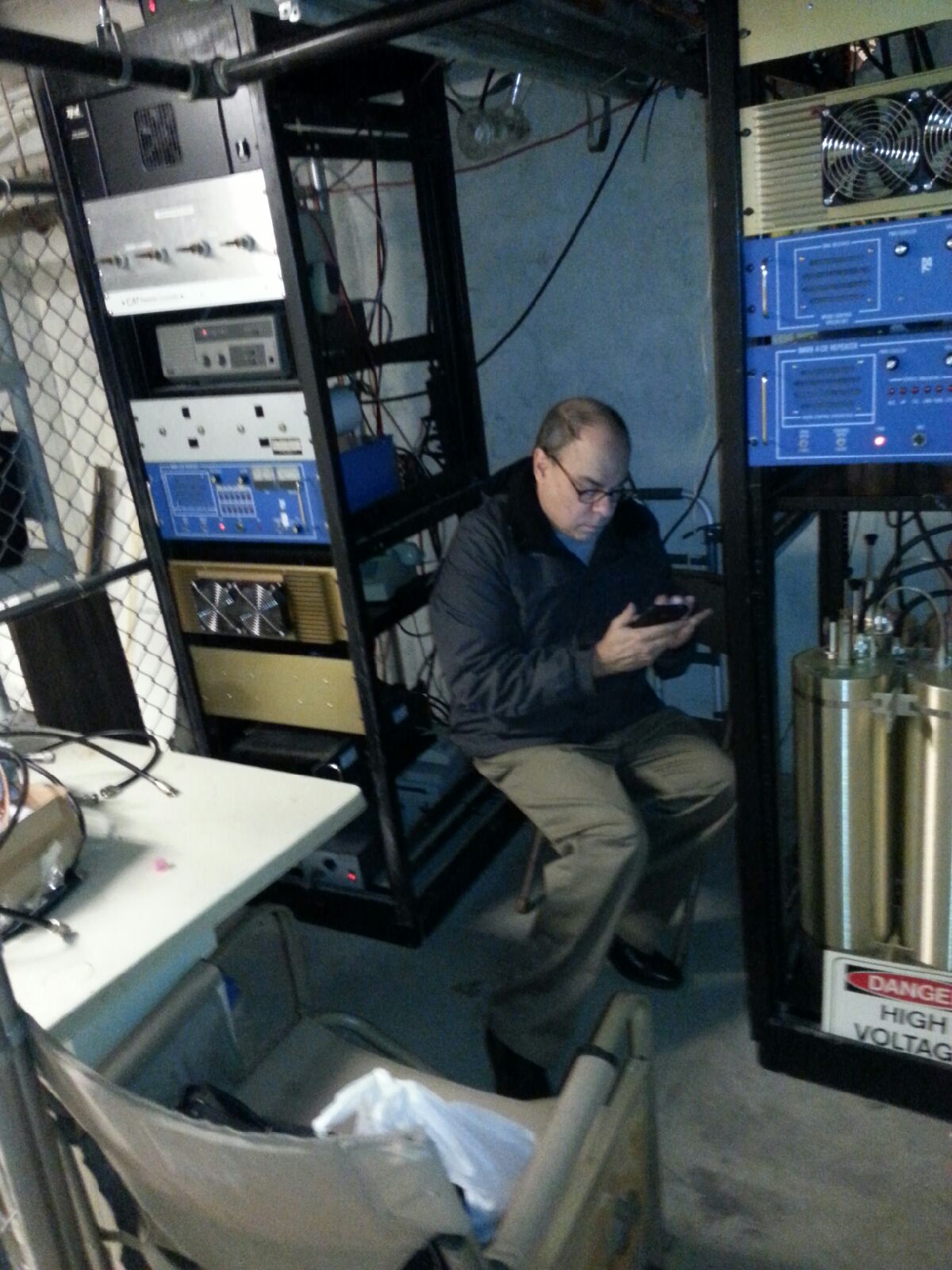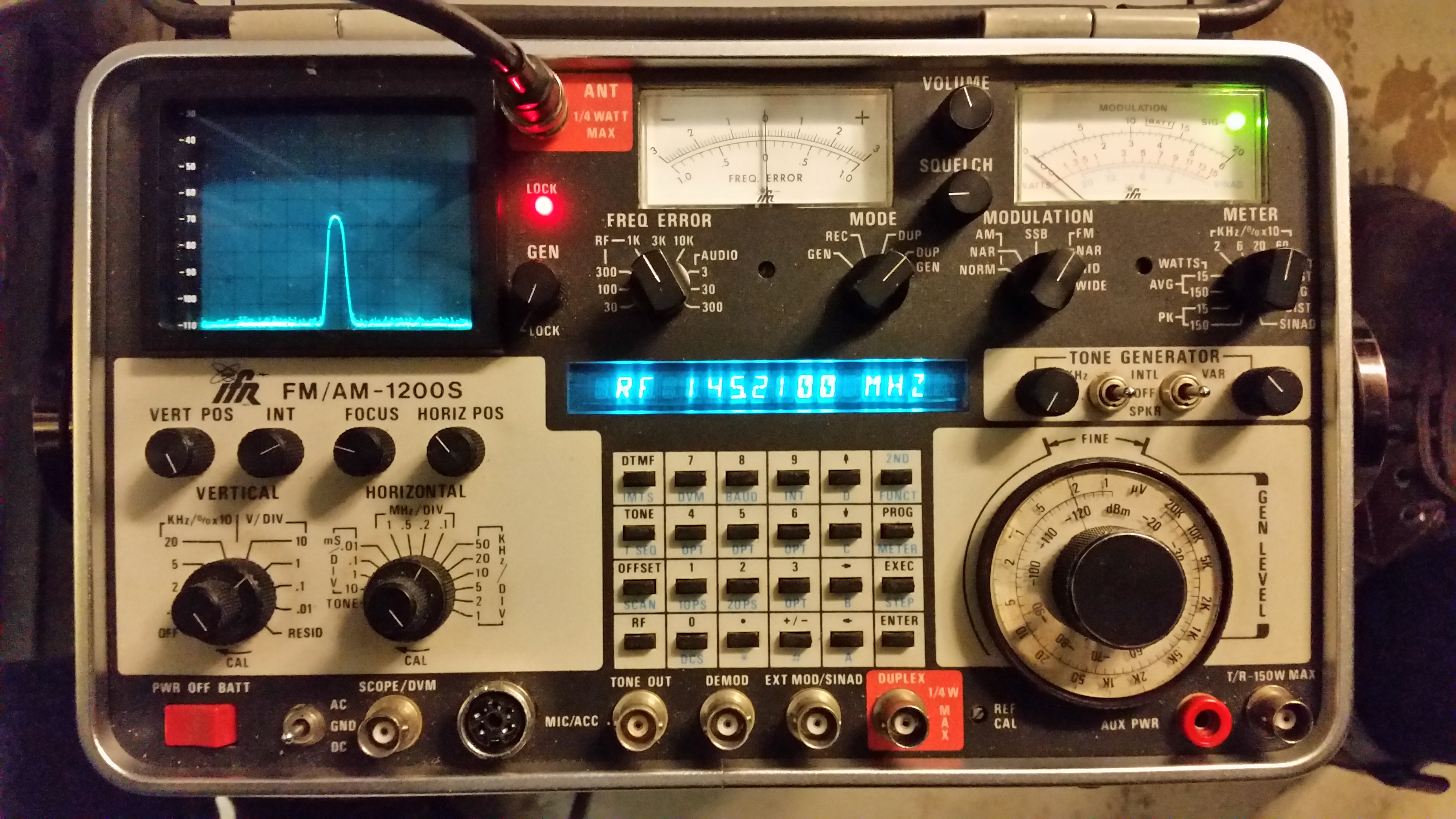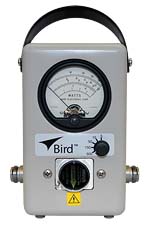 WBØQXW checks the installation of the new duplexers. 01-09-16, IFR 1200S service monitor, Bird 4304A single element 5 to 500 watt 25 mhz to 1 ghz wattmeter.
Call Sign Look-Up
Look up amateur's callsigns via QRZ.COM using the form below.
Need to do a search on Ham Radio? Try the Google Search above.

CLICK ON THE BANNER ABOVE TO GO TO THE HAM TALK LIVE WEBSITE TO HEAR THE PODCASTS!
Buy the best in Amateur Radio equipment. Click the banners above.
A lot of people ask me (QXW) what equipment I like or recommend. Being in the hobby for over 45 plus years makes this question easy to answer. Kenwood for VHF and UHF mobiles . Yaesu for handhelds and small portable low band rigs. The Yaesu duel band mobiles are just to difficult to operate and program. The Kenwood's are easy. ICOM also makes some great gear. My list includes (but not limited to) the following: Kenwood TMV-71A, and D710. Yaesu 891, FT-60, VX-6. ICOM T-70, IC-9700, and IC-7300. Also, the Yaesu FT-4XR handheld. Amplifiers by ACOM and Henry Radio. Antennas by Larsen and Comet for VHF and UHF mobile use, Hustler and Comet for VHF and UHF base antennas, LDG for tuners, Astron for power supplies, and Bird Electronics for test equipment. (There is no substitute!) The ICOM IC-7300 and IC-9700 are the best radios I have seen and used in a long time. Also, the G5RV is a great standard dipole antenna. Some radios listed have been discontinued by the manufacturer. New or replacement radios on the way. (I hope.)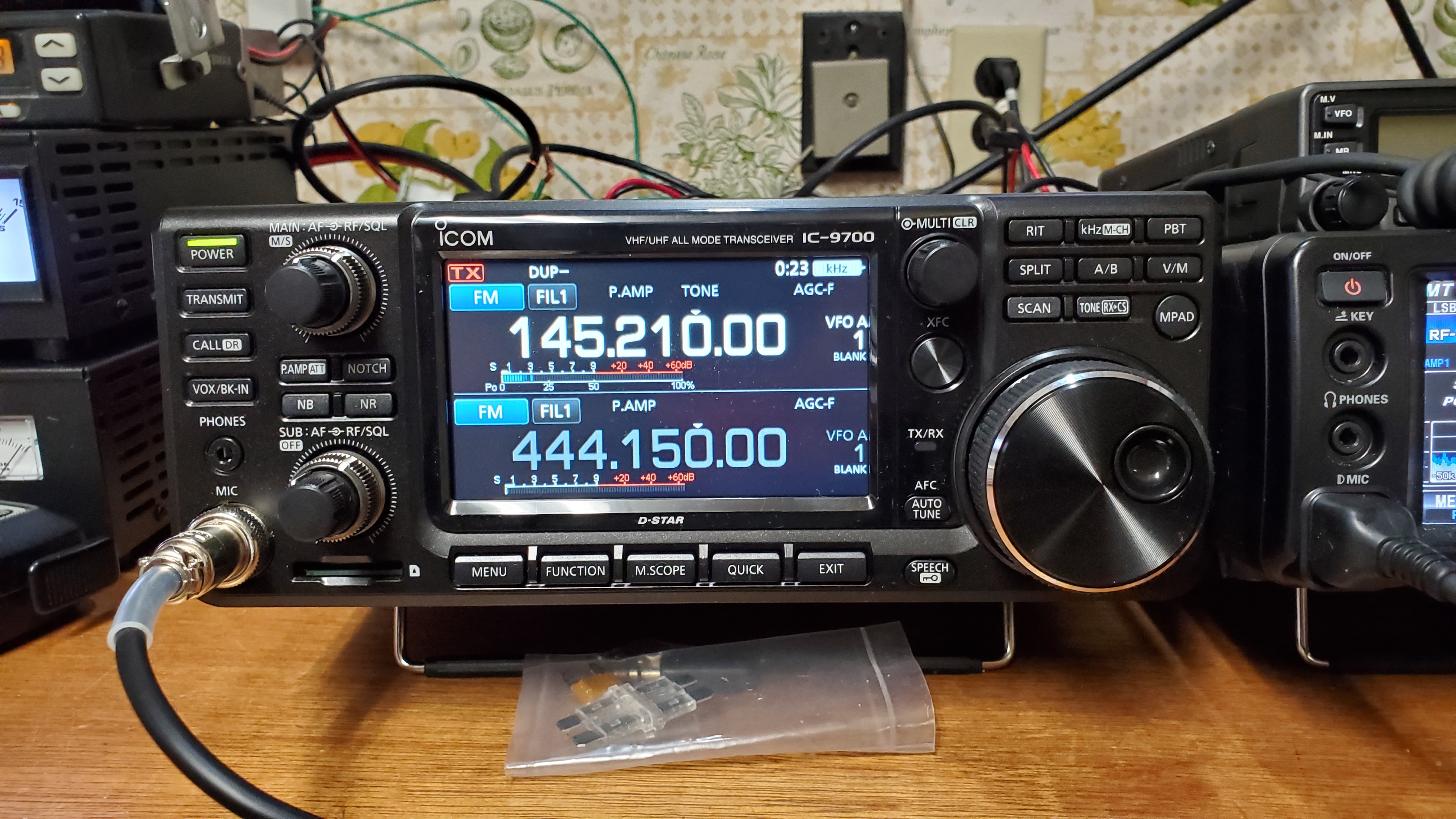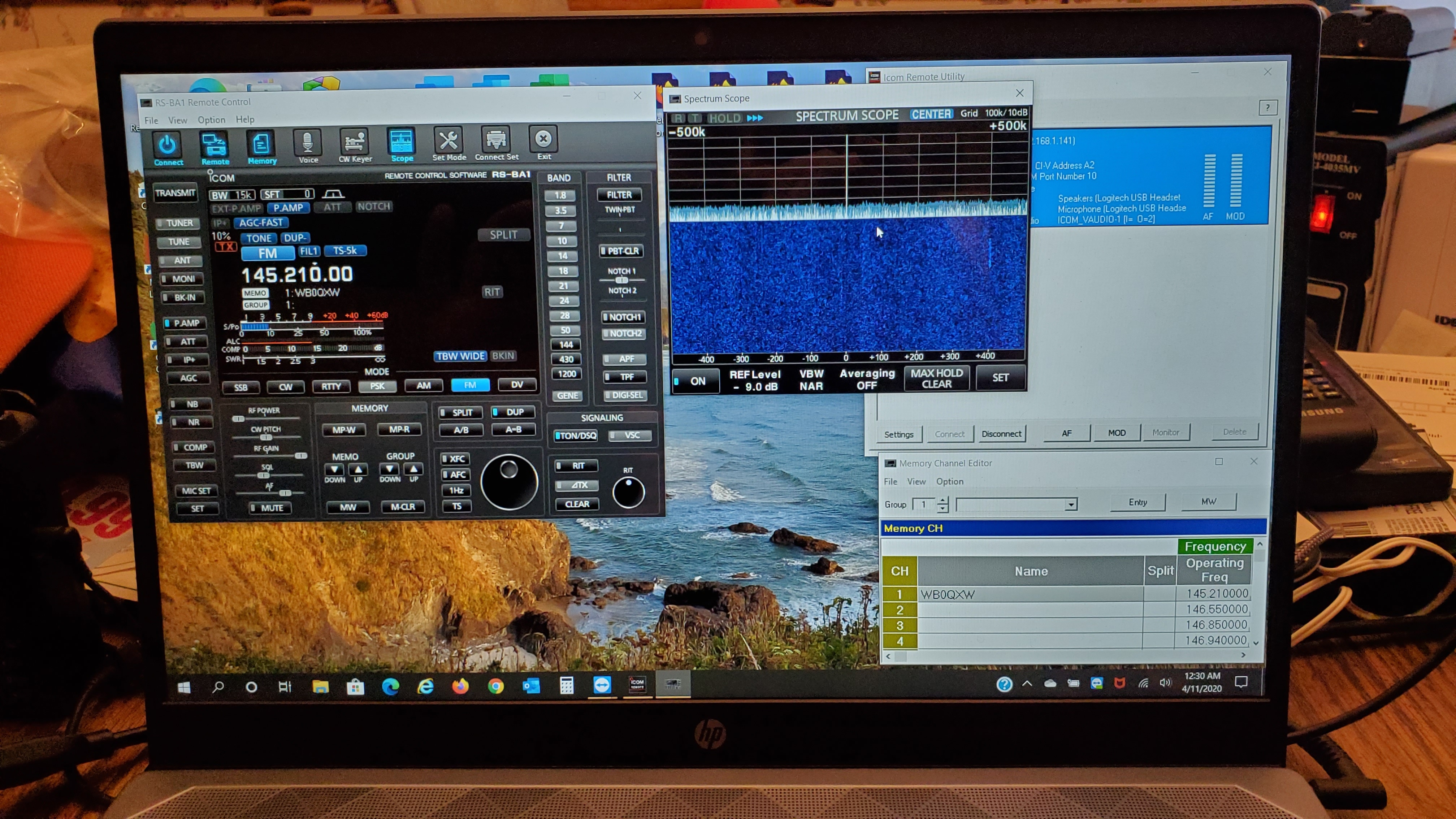 ABOVE: THE ICOM 9700 AND THE REMOTE CONTROL SOFTWARE RUNNING ON A LAPTOP. A SURE WINNING COMBINATION.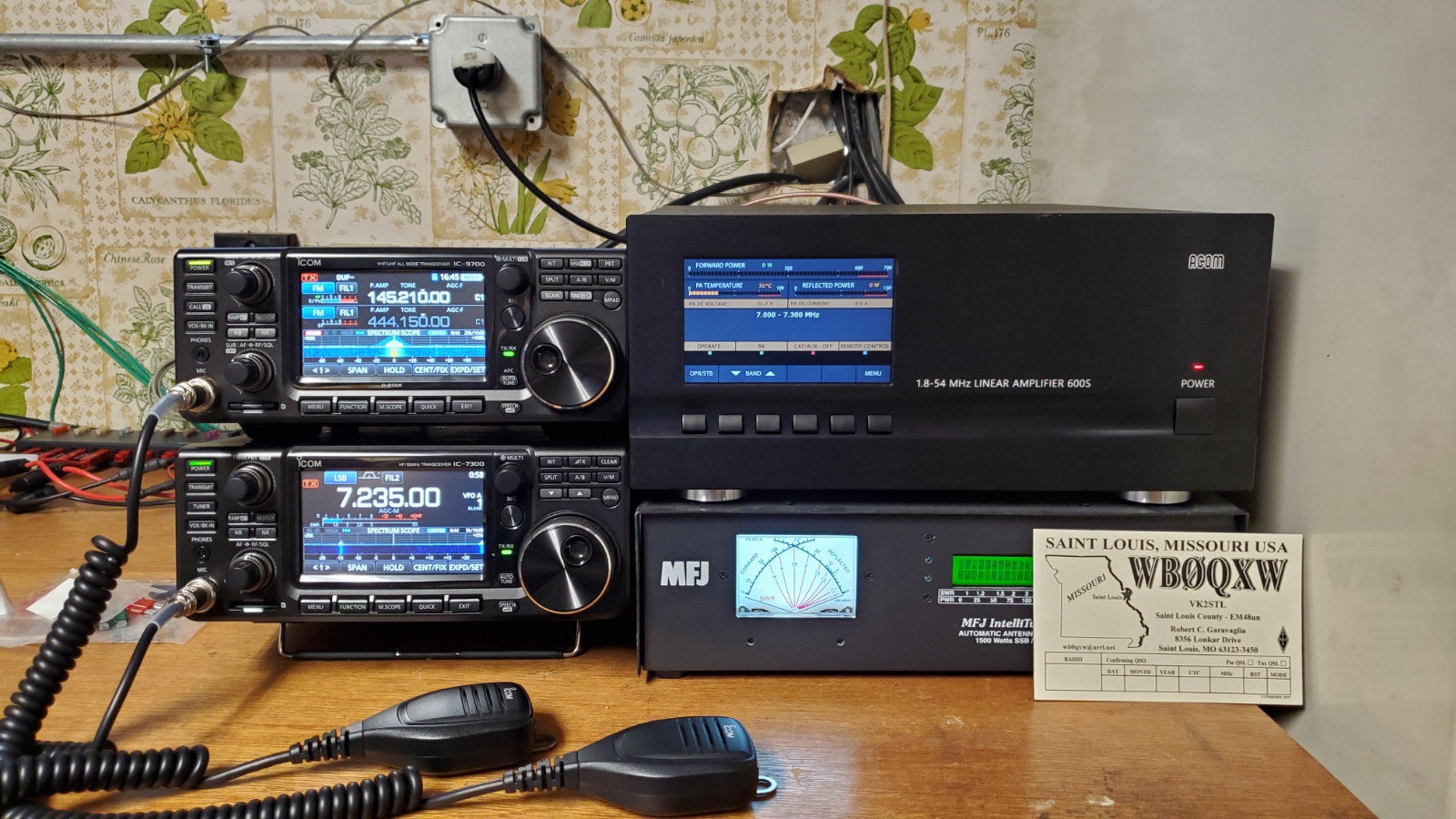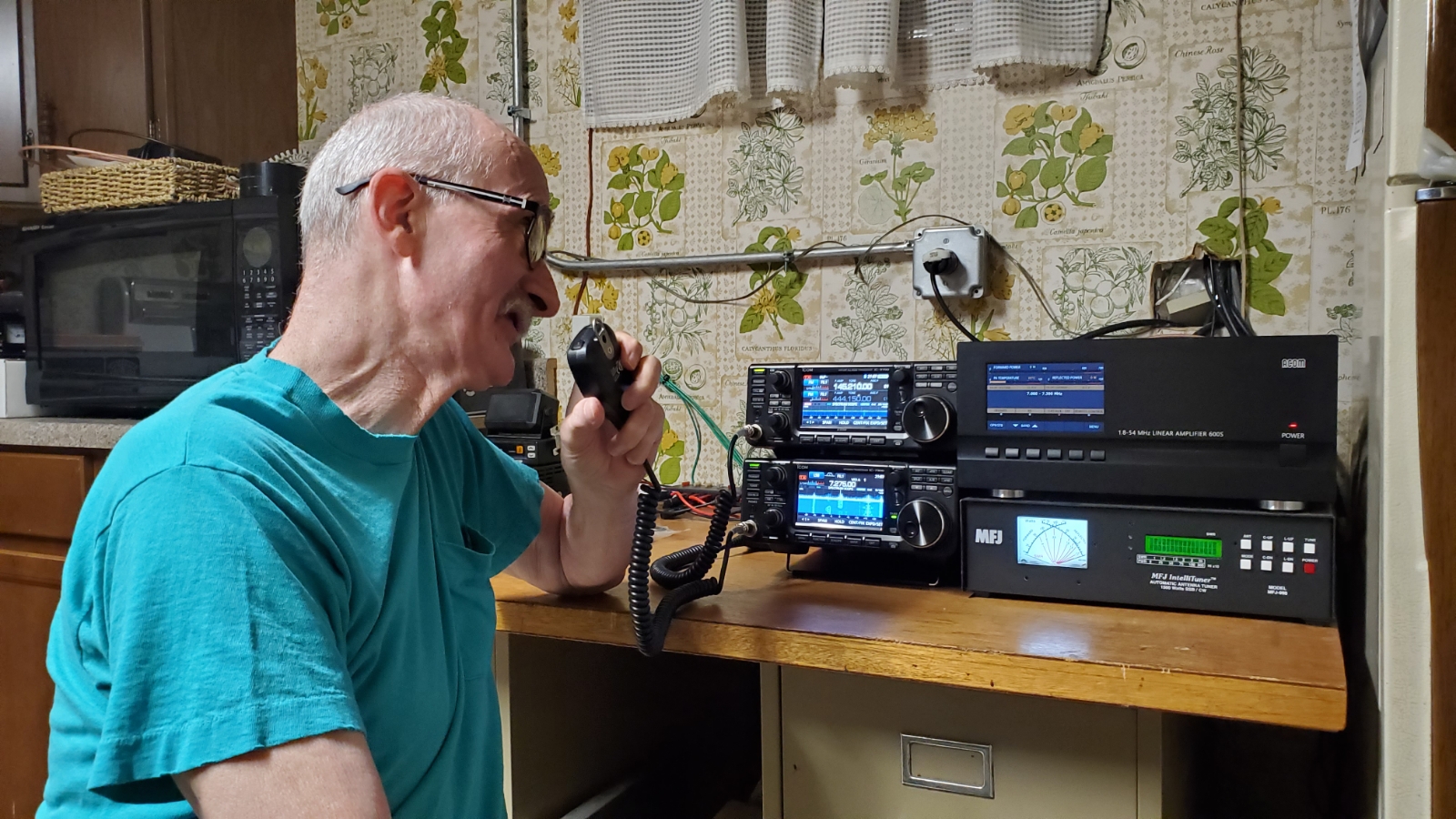 ABOVE LEFT: THE NEW ICOM IC-7300 WITH THE IC-9700. (THE TWINS) WITH THE ACOM 600S AMP AND MFJ TUNER. RIGHT: MICKY, KBØZVB IN THE WBØQXW SHACK.
CLUB TRUSTEE: WBØQXW. CLUB CALL SIGN: KØYCV REPEATER TRUSTEES: WBØQXW (145.210, 444.150) , WPXG847 (462.725).
REPEATER CONTROL OPERATORS AND MONITORS: WBØQXW, KØGDI, KDØBQS, KEØVYD, KFØHIF.
APRS NODES: KDØBQS, KEØJZE.
145.210 ECHOLINK NODE: KØYCV-L NUMBER 2215.
WEBMASTER: WBØQXW
ST. LOUIS REPEATER SITE NETWORKING: KDØBQS, KEØVYD.
HAMVENTION AND HUNTSVILLE GROUP CONTACT: WBØQXW
The list of supporters has been discontinued due to confusion caused by the vanity call sign system. You know who you are and your support is most appreciated. Several of the calls have been reassigned by the FCC. There have been so many supporters over the years and call sign changes that confusion has become an issue. This includes expired call signs and silent keys. Although the silent key list will remain.
***
Listed below are the known silent keys who supported the group through the years. We honor the memory of:
KØYCV Paul, WBØSDZ Dolly, KØTMK Harold, WBØSEA Betty, WAØGGE Jerry, WØIFP Walt, WØRKU Carrol, KAØFXN Jean, KMØX Jim, KH6IQF Bill, WØEKM Bob, KC9KTP Brian, WB5OYL Gordon, N8ZR Steve, NØUHJ Joe, KBØAFQ Jim, KBØEQ Howard, KAØMJI Rod, AAØA Dennis, KBØMWG Bill, VK3NAY Brian, WØBOB Bob, NØGEX Paul, W1FCK Gary, WAØKUZ Jim, WAØS Bob, Ex-KVØW Bernie, K9AAO Rich, KBØVTK Paul, NØEOF Mark, NØXTH Russell, NØMMM Mark, KH2OP Charlie, WA9SQE Jim, KAØRGI Bill.
The call letters above were valid at the time of the silent key unless noted.

< Sign my Guestbook.

Page updated Friday, December 08, 2023 02:56:49 PM.
Copyright © 2010 - 2023 Robert C. Garavaglia, WBØQXW, KØYCV, 521 ARG. Trademarks are copyright to their respective owners. Top of Page Terms of Service