Down Under delivers for New Year's Eve festivities
By Avis Meyer


< Click for website. [Print]
01/02/2004
Copyright © 2004 St. Louis Post-Dispatch. Used by permission.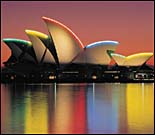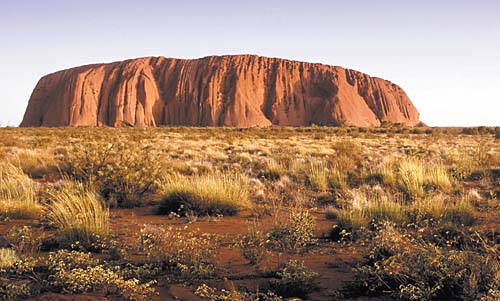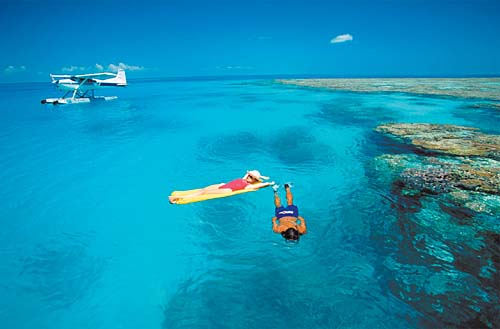 Photos courtesy Australian Tourist Commission
After 10 years of waiting, two years of saving and one year of planning, Australia had a lot of promises to keep, and we had about 8,000 miles to go, before we'd sleep.

So, 14 hours in a 747 packed to its airborne rafters with luggage and crotchety tourists, three mediocre meals, two mindless movies and one crossed dateline later, there it was: the opera house that is Sydney's signature -looming on the blue horizon like some jumbled, buttressed flourish of gull-winged, white-sailed ships' prows - promising space, beauty and solid ground at last.

And it delivered, as did the city.

Sydney is the premiere destination in Australia (even justifiably proud Melbourners usually concur). Among the many reasons for Sydney's allure: (1) an amiable populace; (2) a robust Aussie economy that relinquishes about $1.35 for every U.S. dollar; and (3) reliable, affordable public transportation.

(1) The people: In late June, sitting in a Greek restaurant overlooking Sydney Harbor, munching on sea bass punctuated by lemon-and-lime shrimp salad, we were approached by a 50-something woman.

"Excuse me," she asked, "are you Americans?"

We hesitated momentarily, considering the wisdom of apologizing, up front, for whatever perceived blunder the United States might have committed recently to arouse enmity abroad. But we said: "Yes, we are."

She extended a small, gloved hand, smiled slightly and said: "I wanted to express my condolences on the passing of Gregory Peck. 'To Kill a Mockingbird' is my favorite movie in the world."

We spent 15 or 20 minutes talking about Peck, his upstandingness and American movies, and the sea bass be damned.

On July 4, we splurged: a one-hour architectural tour of the Sydney Opera House, dinner at an opera-house cafe overlooking the harbor and two 40-minute light Italian operas.

At the end of the evening, 6,000 or so patrons strolled into the crisp night. (A drama, a light comedy and a string concerto were also on the eclectic bill that evening.) As the throng tripped lightly down the whopping great stairway to the sweeping parabola of moonlight that was now Sydney Harbor, we noticed random fireworks exploding in the night sky.

We saw an usher lurking about the side doors and asked the obvious: "What's the deal with the fireworks?"

"It's a salute to the States, mate. It's not official; but Aussies all around the country set off bangers, for America's break with the U.K. ... 'cause if you hadn't done it first, we wouldn't have done it second. So, cheers to you."

(2) The shopping: George Street, Sydney's combination Fifth Avenue, Golden Mile and Rodeo Drive, is flanked by boutiques, travel bureaus, Bohemian restaurants and open-air passageways to ethnic neighborhoods, hidden parks and floral-studded lanes.

The buses, taxis and cars whiz by inches from packed sidewalks, and the hustle and bustle is invigorating or intimidating, depending on your state of mind.

Tourists can shell out as little as $10 Aussie ($7 U.S.) for a good lunch, or as much as $100 for a lavish dinner. The cafes along George Street and its adjacent avenues are chockablock with customers, and service is pleasant, although a $2 surcharge seemed to pop up randomly on restaurant checks.

"It's a weekend charge, so that waiters and waitresses will come to work on Friday and Saturday," said a waiter at Milton's, an upscale Italian spot.

"The servers skip work on the weekends?"

"Right you are. They like to swim and frolic as much as the next person. This is how it is, you see. Australia has no off tourist season.

"Americans, Brits and Europeans tend to come in the winter; everyone else, including Aussies, holiday in the summer. Unemployment is low, 2 percent, I'm guessing, so jobs are plentiful. And prices are reasonable. Thus, the weekend $2 tip."

Upscale apartments and the art museum are a kangaroo hop from Chinatown, Greek town, Indonesian buffets and seafood festivals.

And Grace Brothers, the Famous-Barr of Australia, and the French Connection United Kingdom, a hip clothing store that smacks of Parisian panache, are within a boomerang toss of the wharf, flower stalls, pastry shops, upscale boutiques and the ubiquitous street musicians.

Sydney shows it, sells it, hawks it, has it.

(3) Transportation. We had reserved a car by Internet, but instead of picking it up, on the second day of seven in Sydney, we canceled and opted (at the suggestion of our landlady and Sydney fairy godmother, Judy) for the $60 (U.S.) tourist pass: three days of travel by train, subway, boat, ferry or bus - including the Red Bus (serving central Sydney), the Blue Bus (serving outlying Sydney) or any local-commuter bus that strikes your fancy.

The hop-on, hop-off anytime, anywhere feature made for busy days:

One morning with the wallabies, duckbill platypuses, koalas and a surprisingly sedate Tasmanian Devil at the zoo, set deliciously alone on an island in the harbor.

One afternoon at sweeping, pristine Bondi Beach, up north.

One morning flitting back and forth from the Domain, the city's harborside park, to King's Corner, Sydney's combo-mix of the Loop and the Central West End.

And one afternoon on a water-borne tour of the millionaire cliff dwellings festooning the harbor's cliffs.

Sydney, delivered.

The Great Barrier Reef

Cairns, on the northeastern coast of Australia, is one of several balmy, palmy towns that have prospered because of their proximity to the world's largest living entity: the Great Barrier Reef - the Gargantua of the sea.

It is so massive and sprawling that hopping aboard a catamaran and plunging into the ocean for 90 minutes, only to arrive two miles away (as close as you are allowed to approach its 1,200-mile behemoth bulk) to visit it, is presumptuous: akin to trying to see the highlights of New York from 9 to noon next Tuesday.

But millions try, and so did we.

As we trundled onto our 60-foot catamaran - sunglassed, sunblocked, sunburned but plucky - the thin, well-tanned woman collecting our tickets glanced at the bat-perching cardinals emblazoned on our T-shirts and asked, "Would those be the St. Louis Cardinals?"

We blinked, smiled and said, "Yes, indeed they would."

She grinned broadly and said, "I grew up in Webster Groves."

We spent the better part of the first bouncing, jouncing leg of our trip to the reef discovering that we had lived less than two miles apart in the late '50s, had been dragged to neighboring dentists with offices near Lockwood and Gore and had skipped Miss Replogel's choir practices at the (then) junior high on Selma Avenue.

The reef experience is a wet, bouncing ricochet of a day. The transfer point, at Green Island, offers a pause punctuated by random orchids, pristine beaches and souvenir kiosks pushing plastic sea creatures and beachwear you wouldn't be caught dead in within 100 miles of home.

Snorkeling, the most common and least-expensive close encounter of the seafaring kind, provides each beet-red, soggy tourist a chance to splash about for an hour or so and gawk at a melange of colorful, inquisitive sea life that seems oblivious to thoughts of seafood buffets (we were nuzzled regularly by what appeared to be a mauve football with bat-fins).

After eight hours of bouncing around on the Coral Sea, we did what most Great Barrier Reef visitors do: We dragged our bedraggled selves back to our comfortable hotel, next to the Billabong Car Rental, and collapsed.

When next we ventured out, Cairns' lively waterfront, just four blocks away, was in its usual party mode (envision the cast of "Friends" working on becoming the cast of "Jackass: the Movie"). So we opted for a Greek restaurant called Yanni's - far enough from the water to cut the ruckus, but close enough to furnish sea breezes for the patio.

After a treat of lobster on a bed of spinach and rice, accompanied by cheese muffins and a trifle made of coconut and sliced mangoes, we struck up a conversation with our gregarious waiter about the name of the place.

We asked him how this restaurant could be named after a real person. Wouldn't some sort of copyright law be in effect?

"Yanni owns this place; I think he has places in Greece and America as well," he said.

We nodded at the speakers dangling from the vine-covered ceilings: "So how come you don't play his music?"

"Sometimes we do," he said with a shrug, "but people grouse about it ... so we just shut her down."

Bragging rights in Alice Springs

On our first day in Alice, as the locals call Alice Springs, our bus crossed the Todd River, twice. We noticed that the Todd was about as deep and damp as St. Louis' River Des Peres.

On our third day, as we were preparing to leave Alice, we read a poster on the bulletin board of our hotel: Register now for the annual spring regatta.

When we asked our motel hostess how one holds a regatta in a dry riverbed, she explained: "All the blokes from miles around traipse into town with their bottomless boats, canoes and kayaks; then they hold onto the crossbeams and footrace from one bridge to the other. The fleetest of foot win bragging rights and Fosters on the losers."

"And you do this every year?" we asked.

"Every October as long as I can remember," she said; "except one year when we had to cancel ... 'cause it rained."

Alice's residents do not consider themselves isolated, although the coast and its cities, where, we were told, 95 percent of all Australians live, are from 900 to 1,200 miles away.

This means that from any direction from Alice Springs, one will not find: electricity, water, phone lines, cell-phone towers, restaurants, service stations, towns or villages - only an occasional wisp of a station offering a smattering of cellophane-wrapped snacks and petrol (gasoline).

The stations are usually slapdash, if sturdy, affairs. We stopped at two. In each case - Jimmy's Station and Ebeneezer Station - the local gentry made Crocodile Dundee's mates look like the cast of "My Fair Lady."

At Jimmy's, we were entertained by an honest-to-Aussie wild dingo, tethered by what looked like a logging chain.

He gallumphed across the concrete floor on command, leaped atop an upright piano that was held together by plumber's tape and a few nails. And he howled on key, five or six times in a row, when his grizzled master (Jimmy?) hit the last chord of "How Dry I Am."

When we asked his master where the dingo, whose name was Dinkie, stayed when tourists weren't about, Jimmy replied: "He don't stay nowhere, mate. He hunts and runs all night and comes back to me when he has had his fill of all of that wilderness life. He is a fair dinkum dingo, this Dinkie."

He added that Dinkie had once decapitated a yappy poodle that got too close to the piano; but since he said it with a grin, we figured he was joking, probably.

At Ebeneezer Station, we had a box of Rice Bubbles (Rice Krispies to you) and watched three men dressed like the Joad family shoot pool.

In between shots, the three would take turns tossing bits of sandwich, chips, pickle or bread crust into a dark corner of the room. There, up against a clapboard wall, three wire cages - each about the size of a microwave oven - held a lizard or some such desert creature about the size of a ferret.

When the morsel hit the top of the cages, all three creatures would commence hissing, spitting, rasping and thrashing around until the food fell through the mesh wire and was snatched, gnawed and gulped by one of them. Then they'd resume their stoic stance.

One of the troika playing pool glanced up, eyed our eyes and said: "No TV hereabouts. This is our reality programming."

A serious excursion

For most tourists, Alice Springs provides the stepping-off place for the Outback - or the red center, or the Northern Territory, or the frontier, the names are interchangeable. All vehicles shuttling visitors into the Outback are equipped with two drivers, a few morsels of food, two-way radios, one coat of abiding red dust and lots of water, blankets and first-aid kits.

This is not a namby-pamby trip.

They're also outfitted with halogen lights the size of dinner plates, four per colossal front bumper, usually. When these vehicles hit their halogens, the roads, shoulders and side pathways glow like downtown Vegas, and the wallabies, kangaroos and camels, all of which run wild, scatter and scramble into the beckoning darkness.

Most Outback excursions include Ayers Rock, known to everyone thereabouts as Uluru. The natives imbue this monolithic presence with ancient spirituality, and its size almost defies description and the camera lens.

Imagine a juggernaut loaf of stone bread in a red desert, visible from 50 miles away - about the size of Forest Park.

Every evening at dusk, a battalion of buses congregates to disgorge phalanxes of weary tourists to oohh and aahh and snapshot the leviathan, as it miraculously changes colors, every 30 seconds or so: from reddish-orange to burnt orange, to tarnished pumpkin, to cobalt, indigo, mauve, lavender, violet, dark orchid, umber, tombstone somber, to slate - as the sun sets on Uluru, in the middle of the desert, in the middle of Australia, in the middle of a Down Under vacation, its red-dust images linger, on the Outback side of the world.
The above story appeared in the Sunday, January 4th, 2004 editions of the St. Louis Post Dispatch newspaper.