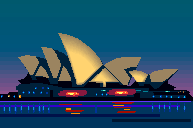 TRAVELINGOZ .COM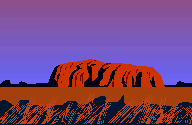 Australian Travel Tips by Bob - The Webmaster of TravelingOz.com
[Print]
Click the links within for more information. The pages will open a new window in your browser. The opinions expressed in the text are solely my own. Also check out my facts page for even more good info.
For other travel tips and information, trying searching Google from my site.
Content updated December 27, 2016 04:11:39 PM Copyright © 2003 - 2011 Robert C. Garavaglia, TravelingOz.com. All rights reserved.
The 2010 trip is now over. One tip I can give you is DO NOT fly Jetstar Airlines. They are owned by the Qantas Group. Being a budget airline they will charge unacceptable rates for overweight luggage over what you are allowed. This is unacceptable if you are an international passenger. We were charged AU$230.00 for 23 kilos over the limit. So, always fly Qantas on a Qantas ticket to avoid these charges. DO NOT fly Jetstar Airlines!
Also from the current trip in 2010, if you plan to buy beer, the going price for a six pack is AU$16.00 and the price of a case is AU$70.00 on average. I found everything to be more expensive. If you are a smoker, be ready to pay the price! Time to quit. Thank goodness I do not smoke or I would be broke!
- - - - - - - - - - - - - - - - - - - - - - - - - - - - - - - - - - - - - - - - - - - - - - - - - - - - - - - - - - - - - - - - - - - - - - - - - - - - - - - - - - - - - - - - - - - - - - - - - - - - - - - - -
As with any trip, good planning is a must in order to be sure things run smoothly and to give you piece of mind. In this article I'll try to provide you with the details to get your trip plans started.
One of the first things you need to do is decide on your trip dates. Keep in mind that the seasons in Australia are opposite of North America. The best dates for travel to Australia are from December through February. This is known as "high season". If you don't like to travel in the Australian summer, then the "low season" or winter is from June through August. If you want your seasons between the hemispheres to equal so that the temperatures would be somewhat the same, then the "shoulder seasons" of September through November and March through May would be ideal. I recommend at least 21 days minimum. You can get by with two weeks but that is stretching it really thin. Since you will be spending good money on the airfare, you would want to maximize your visit. Especially if you do not plan to return for a number of years. (More on places to go and things to do later.)
It is highly recommended that you register your trip with the U.S. Department of State. Click here to register. This will allow the United States Embassy staff (or Consulates) to locate you in the event of an emergency. There is no cost for this service.
After you decide on your dates, it's time to consider the airfare. I recommend Qantas Airways. The service is the best in the world. When you step on the plane it's like already being in Australia. The one rule I cannot stress more about in this area is book far in advance. I usually book eight to twelve months ahead. There are several reasons for this. The seat availability on Qantas fills up fast. Especially frequent flyer tickets. So, the more in advance you can book the better off you will be. The same rule applies to hotels. You may be able to get a better price depending on the time of year you decide to go. I suggest flying to Los Angeles and taking a late night flight on QF 12 or QF 108 and returning on QF 11 or QF 107. The return flights get in on the same day in the morning at LAX. On the outbound flights you lose a day on the way to Sydney. They arrive in the early morning 15 hours later. QF 107 travels from Los Angeles to New York and back to Los Angeles as QF 108. You can also go to Hawaii and then on to Sydney. I do recommend the non-stops.
Qantas Airways has some very good web specials going on. Also, they have a new US$999.00 special that includes your round trip from Los Angeles plus three domestic flights within the same zone. The fare is higher for other zones. Check out their web page.
I am sure you plan to take a lot of photos on your trip. Digital cameras are the best bet now a days. No film processing to worry about. If you still use film in your camera, there are a few things you should be aware of. Mainly airport x-ray equipment and security searches. Check out FSTOP - Film Safety for Traveling On Planes for more information and guidelines.
Once you have the dates in place and the airfare purchased, it's time to get into the internal planning stage.
Before you leave on your trip, you will need to purchase travel insurance, especially medical and dental coverage, for yourself and any family members traveling with you. This is in addition to any other insurance you may have. Having separate medical insurance in most cases is less out of pocket than if you rely on your home insurance. I recommend Travel Guard. I have used them on all my trips to Australia. Read this great medical travel tips section from Conde' Nast Traveler Magazine.
If you need any medications while on your trip, especially prescriptions, be sure you have enough supply to last the duration of your trip. Your doctor will not have the authority to write a prescription in Australia unless he is licensed to do so. Medications in Australia may not be the same as in the USA even though the names may be the same. Be sure that you take the medicines in your carry on bag and have a doctors note on letterhead along with them for inspection by airport and customs officials. Any medicines with needles will not be allowed unless you have a letter from your doctor with an explanation.
You need to decide on your budget. How much money you will need for everything from meals to transportation to shopping money. The exchange rate is still favorable for American travelers. But, with the big decline of the dollar, the Australian Dollar is almost at parity. With that said, you will find things cost more at retail levels dollar for dollar when the exchange rate is figured in. You can find the current rate here: International Currency Converter.
Transportation is the next thing to consider. Renting a car is a good option if you want the freedom to do things on a moments notice. There are drawbacks to consider. The parking is limited in the big cities. Especially in Sydney due to the population. There is a mass of cars, trucks, and taxies. Car Parks are expensive and on street parking is limited. Australians drive on the left side of the road. If you decide this is not an option, you may want to consider alternatives. However, one good tip is to follow the person in front of you. The lefts are rights and the rights are lefts.
On your arrival in Australia (Most likely Sydney.) I recommend Hughes Limousine Service to transfer you and your party to and from your hotel. They will even handle your luggage. The chauffeurs are very professional and the drive is excellent. I have used the service several times. The driver will meet you at the public departure area at the airport. If this is at the Sydney International Terminal, this will be once you clear immigration and enter the public area. This service is best if traveling on a non escorted tour and you are in need of your own transfers. In Sydney you can call LandTrans (A division of Hughes.) at 02-9317-4278 for booking information.
If you decide to rent a car, all the major rental agencies are located in Australia. Here are the web links to the major car rental agencies: Budget Rent a Car , The Hertz Corporation, Avis -- Rent a Car. If you want to rent a four wheel drive or campervan try Britz Campervan Rentals. If you are planning to drive in the outback, check on local road conditions and be careful. There are vast distances between services. Carry extra supplies and fuel if possible.
Public transport is an excellent option in the big cities. The cost is very reasonable and the bus and train schedules are suitable for the common tourist. Most cities offer a tourist pass on a weekly basis that covers most of the city.
In Sydney you can purchase a Sydney Pass that offers one ticket for all the public transport systems. Buses, trains, ferries, tourist busses, and Airport Link operated by State Transit. The cost of the pass is far more budget friendly then renting a car or using the individual services. For more info, click here: Sydney Buses & Sydney Ferries Homepage. For more information on the Sydney Pass, download the current brochure here. This will open a new window. This is a PDF file and Adobe Reader is required. If you need to download Adobe Reader, use the link at the bottom of my main page. Also checkout 131500 Info Line The state transport information web site.
For an idea of what I recommend to see in Sydney, the red Explorer Bus stops are a good place to start. For more information, download the current Sydney Explorer brochure here. Also, try the Bondi Explorer, the blue Explorer bus stops. For more information, download the current Bondi Explorer brochure here. These pages will open a new window. These are PDF files and Adobe Reader is required. If you need to download Adobe Reader, use the link at the bottom of my main page.
For information on Melbourne and Victoria transportation, visit the VicTrip - Victoria's Official Public Transport Web site.
For information on transportation in Hobart, Tasmania, checkout the Metro Tasmania web site.
For information on transportation in Perth, Western Australia, checkout the TransPerth web site.
If you are planning to visit Brisbane, checkout Brisbane - ourbrisbane.com - Visiting Brisbane. This site has everything you need for visiting.
There are several tour companies to pick from if you desire an escorted tour or day trip. All are very good. My recommendation here is AAT Kings. They offer the best selection of trips and schedules. You can buy and book your trips and passes here in the U.S. before you leave. For more info, click here: AATKings-Tours. Their Australian toll free number is 1800-334-009. The toll free USA number is 1-866-240-1659.
Taxies are everywhere in the metro areas. Sydney is like New York or Chicago. You can get a taxi twenty-four hours a day just by walking to the curb. If you call for a cab, they will add a radio booking fee to the regular fare. All major taxi companies take plastic which is great because you don't have to worry about how much the fair is, or how much money you have with you. Tipping is NOT the custom in Australia. There are extra charges for heavy luggage and waiting.
When it comes to money options, I recommend American Express Travelers Checks in Australian dollars. They are easy to use and you can use them most anywhere in Australia. No conversion needed. It's already done for you. Be sure to keep your passport with you so the merchant can record the identification. You should have your passport with you at all times as a rule. Your American Express card provides other valuable overseas benefits. If you are a member it is worth checking out before you depart the USA. Australian Dollar Travelers Checks are NOT available online and must be ordered from your financial institution that is part of the American Express network.
Using traveler's checks already converted in Australian dollars or cash from an ATM is more economical. Especially if you get your cash from a hotel front desk. They will exchange Australian dollar checks or cash one for one. They will charge a hefty fee for other currencies. Plus you have the convenience of getting your cash before you leave the hotel without having to search for other ways to get the cash you need.
If you opt for other methods of cash, there are ATM's on every corner of the major cities. Just use your home ATM card, debit card, Visa, MasterCard, or American Express Card. The money is taken out of your account at the exchange rate at the time of posting. Use of a Visa Check Card or MasterCard Check Card works very well. The same as a normal credit card. Use of electronic transfer such as these methods is safer then carrying a wallet or purse full of cash. Be aware that Visa and MasterCard regulations require a foreign conversion fee of 2% to 5% of the amount charged or taken from an ATM.
There are so many ways to call home that it will make your head spin. But, never fear! I have the best way for you. There are several calling cards you can buy at the newsagent. They are cheap and easy to use. One card is the Victory Card. It costs AU$20.00 for 700 minutes to the USA. The best way however is the eKit, System An Australian company. You sign up for it online. Use a credit card or debit card to charge it up. Then just dial the local access number for the city you are in and follow the prompts. There is an 800 type number for cities with no local access numbers. The rates are far less then those of the major big name long distance companies. Best of all besides the price is you can manage your account online and also get a host of other services like email and fax services. It's the best-kept secret since my mother's oatmeal cookies. Pennytalk.com is another service for cheap calls to and from Australia. Much like eKit.
When using any of these telephone services you should buy a local Telstra phone card. I recommend the $20.00 card. Just insert the card in any payphone and your off and running. No need to fool with change. It's easier and quicker. The phone will give you the balance left on your card when you insert it. The cards now have a "smart chip" built right in.
While in Australia, the emergency number is "000". Similar to our "911" here. While you are in a hotel room or using another PBX type system, the code for an outside line is a zero.
If you have a laptop with a web camera and microphone, you can connect to the Internet and use a free service such as Windows Live Messenger or Logitech Vid to do video chats from your hotel room. You must have an account with Windows Live or a Logitech web cam with the Logitech Vid software. The connection is very good. It all depends on a number of factors including the speed of the connection and the type of laptop you are using. The cost of the high speed internet at most hotels averages about AU$29.95 per 24 hour day. Dial up access will not work and is going the way of the model T.
For those who want to keep in constant touch, the best way is to purchase a prepaid cell phone. The phones are available from Optus or Telstra. The phone comes with your own number and bonus credit. Just purchase an airtime card at most newsagents or gas stations. (AU$30.00, AU$50.00, or AU$100.00) Enter the voucher number with your phone's keypad and the credit will be applied to your balance. Incoming calls are free (no airtime) because the caller pays. Your family members and friends can reach you anytime. The phone account also has voice mail. The cost of your outgoing calls depends on the service plan you choose when purchasing the phone. It is a good idea to get a carrying case and clip it to your belt or purse strap. The prepaid phones can be used outside of Australia if you get a phone that has the capability but you must activate prepaid roaming . If you plan to return to Australia, you can use the phone with the same phone number. The phone will be deactivated after six months if no credit is placed on the account. All you need to do is turn the phone on in the USA and add credit using your credit card or recharge it online.
If you plan to do a lot of shopping, a good idea is to ship items home to lessen the burden of packing for your trip home. Consult the U.S. Bureau of Customs and Border Protection. and the U.S. Customs Guide "Know Before You Go" for details. You can also buy duty free at several shops at the Sydney Airport. All you do is collect the goods before you get on your plane. This is an excellent way to spend the last of your Australian dollars.
While on the subject of U.S. Customs, If you plan to take with you anything that has a serial number, it should be registered with U.S. Customs. This includes but not limited to: Camcorders, cameras, laptops, shavers, radios, cell phones, and any other equipment or devises. The reason for this is simple but important. If you take any of these items with you, there is no proof to U.S. Customs on reentry into the U.S.A. that you bought them BEFORE you left. (Purchased in the U.S.A.) The only other proof is an original purchase receipt. This is NOT a good idea because store receipts can get lost, or fade over time. Besides, most people do not keep them for a long period of time. To solve this problem and to make things easier, gather up all the items needed for registration and take them to your local U.S. Bureau of Customs and Border Protection office and fill out the forms. An inspector or agent will verify the serial numbers, stamp, and sign the form. You will also sign it. When returning to the U.S.A., just present the form to a customs agent.
Before you leave the USA, it is best to familiarize yourself with the Australian Customs Service. For the do's and don'ts on entry into the country. This is a must see for anyone visiting. You can be fined if you violate the customs rules. If you have any items that are not allowed, use the quarantine bins located just outside the airport gate. On that thought please checkout the Australian Government Department of Agriculture, Fisheries, Forestry web site. This is a must. From this web site, link to What can't I take into Australia for specifics. Know before you go! For your convenience you can download the brochure here. (PDF file) Also very important, is to familiarize yourself with items on the prohibited or restricted list. Look over it carefully.
When you get ready to come home, you always seem to need extra space for souvenirs and other items you are taking back with you. You can buy another suitcase for these items or you can save space in your existing luggage. One way is to mail things back home as stated above. If you plan to take anything back in your luggage that is breakable or perishable, go to a poster shop or a gallery and buy a mailing tube that fits your suitcase. Place the items in the tube and seal it up. This will protect those items during handling. You can also "dump" things you don't need. These can include old clothes you don't want, tourist books, maps, and one of the best things to leave behind, your toiletries. Your shampoo and soap and other items you can donate to the hotel for other guests that may forget something. Maximize your space. Keep in mind though your weight limitations on your luggage by the airlines.
If you plan to visit the outback, it is best to begin in Alice Springs. There is an excellent shopping mall in town called the Todd Mall. Pick yourself up an Aussie hat and a "fly net". The flies will drive you nuts. Then after your visit in "The Alice", take an AATKings motor coach to Ayers Rock. This takes about 5 hours. The bus driver will provide a rolling commentary. There are several stops along the route. Including a camel farm and a refreshment stop. After your visit to "The Rock", you can fly on to your next destination directly from Ayers Rock airport. Darwin up at the top end of the Northern Territory is another good stop as well as Kakadu National Park to the east. Check out this link for info: Northern Territory Visitors Center.
All good hotels have coffee and tea making facilities. Some better ones have a refrigerator with mini bar. Some include a microwave with plates, cups, and utensils.
When it come time for doing your laundry, the hotels charge a premium for their service. What I have found over the years is to take your laundry to a corner laundry or dry cleaners. The price is a whole lot less and they give you your clothes back all clean, dry, ironed, and folded. Can't beat it!
The electricity in Australia is 240 volts. About double that of the USA. Most electrical devices now are "dual voltage" so you can use them world wide with the correct power socket adapter. Such as the battery chargers for video cameras, digital cameras, shavers, and radios. In the event that your specific device is not "dual voltage", you need to obtain a voltage converter from any travel store. Plug your device into the converter and the converter into the power outlet. Most good hotels have a hair dryer in your room with 120 volt outlets for shavers and small devices.
If you want your fast food fix, there are plenty of McDonalds, and Burger Kings (Some of the Burger Kings are known as Hungry Jacks.) Be sure to try the "Aussie Burger". You will not find those on the menu at the U.S. outlets. (I'm not going to spoil the surprise. Just go try one! Don't worry, it's 100% beef.) There are also Pizza Huts, Taco Bells, and KFC, among others.
If you plan to visit Perth, Western Australia, one of the neat things to do is a trip to Rottnest Island. It's a small island off the coast of Fremantle about 19 km offshore. A great little place to relax and soak up the sun. You can get to see the Indian Ocean and go for tours.
For those wishing information on moving to Australia check out Australian Immigration Department. For those needing Australian Mission (embassy) information, check their website. Click here for the Australian Embassy Washington DC. Government issued travel advisories and other good information can be found at the Australian Department of Foreign Affairs and Trade web site. The Australian Tourist Commission website offers a wealth of information as well. For those wishing to find information on your country's representatives in Australia check out Diplomatic, Consular and Other Representation in Australia. For the US Embassy in Canberra, check out Embassy of the U.S. Canberra.
For backpackers and budget travelers try the YHA Australia website. You can find very reasonable accommodations if hostelling is your thing.
Lonely Planet World Guide Destination Australia. and Lonely Planet World Guide Destination Sydney .Check out the Lonely Planet Australia web pages.
Aboriginal Australia Art and Culture Centre Alice Springs Click this link to learn all about Aboriginal culture.
The Society of American Travel Writers lists the nine items every traveler should carry: A good pair of walking shoes; a photocopy of your passport; photocopies of your credit cards (carry copies separately from passport and cards); photocopies of prescriptions for necessary medicines and eyeglasses; Ziploc bags; Imodium (for diarrhea); a pocket flashlight; spare camera batteries; and your address book. You may also want to bring adapter plugs (as mentioned in the above paragraph); a nighttime reading light and extra videotape for your camcorder. The Australian TV standard is PAL format. It is NOT compatible with the USA standard of NTSC. It's better to have more videotape then not enough. Take the rest back home.
If you like walking tours, Sydney offers a lot to choose from. One of the best in Sydney is the Harbor walk. Start at the Royal Botanic Gardens, past the Opera House, through Circular Quay, on to George Street to the Rocks. Another good walking tour is the Bondi Beach to Waverley Cemetery. The views on both tours are spectacular.
While you are in Sydney and New South Wales, take a trip out west to the Blue Mountains. The views are spectacular. Several pictures are on my picture page here on the site. For more information go to the Blue Mountains Tourism web site. Several tour companies offer tours. I recommend AATKings-Tours.
For those of you that want to watch DVDs purchased in Australia, you need to buy a region free DVD player that converts the Australian TV standard of PAL to the USA TV standard of NTSC. You can buy the player at the DVD City web site. Australia is region 4. The USA is region 1. There are various DVDs of Australian TV shows and movies you might find of interest. Keep in mind that you cannot use PAL VHS tapes in a USA player. The DVD player option is the only way to do it. The Sanity online store is a great source of programming.
I hope this helps in your planning. If you have any questions, please feel free to email me by clicking here. I will update this page as needed.
Page updated December 27, 2016 04:11:39 PM