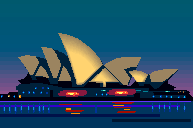 TRAVELINGOZ .COM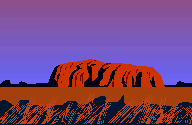 Personal stories and letters page.
[Print]
If you have a travel story or letter on Australia, please click on the button above. Your submissions will be posted on this page.
By submitting your stories and letters, you agree to give your permission for publication on this website.
These four letters were written by my good friend Gerd from Dayton, Ohio, USA. Thanks Gerd for your contribution.
Down Under (Nov/Dec 2004) By Gerd
While getting ready for the long flight, from Los Angeles to Melbourne, we had quite a discussion about the length of the flight, the difference in local time and so on. Our son Martin, who's been living there for two years and had made a number of flights to and from Australia, recommended taking along several books. Our ticket indicated only the local time we left, and the local time again at our arrival. From experience, talking by telephone and radio, we knew to figure out local times, but the added complication of the date change made anything else ambiguous to say the least. I had made a graphical world time zones calculator and marked prominently the time zones of, Germany, Ohio, California and Melbourne. A rotatable disk quickly permitted to compare local times anywhere, but it still didn't stop the discussion. (I noticed, the flight computer indicated flight time one hour too long, apparently it didn't use daylight savings time)
The big thing with traveling to Australia is of multiple nature. The change of time when traveling west across a number of time zones, is only the beginning. Going from Ohio to California, we know we have to set our watch back three hours. Continuing to Australia, however, we also cross the international dateline. This "line" is necessary because our time count stops at 24 hours and then we start a new day. Crossing the line to the west, you suddenly jump ahead one day, in our case we left around midnight Sunday and got to Melbourne on Tuesday morning. Going east, of course, you gain back the lost day. So, on our return, we left Saturday around noon, and got back into LA on Saturday morning before 7.
But the other big factor leading to a number of consequences, even the original explorers couldn't handle, has to do with crossing the equator. Today, crossing the equator become so common, that it is neither announced by the pilot, nor any ceremony arranged. I remember reading in my youth about the equator baptism taking place when someone traveling on a ship crossed the equator for the first time. Possibly this is still done on ships, because there is time and anything is welcome that breaks the monotony. But even nowadays the average person is hard pressed when you ask for the latitude of his city. Dayton is at 40 degree north and Melbourne at 37 degree south which accounts for another surprise: the length of day and night are pretty much exactly reversed. In Melbourne we had daylight between 6 AM and 8:30 PM (14 ½ h) while in Dayton night is from 5 PM to 7:45 AM (14 ¾ h).
Australia is located between 10 degree and 40 degree southern latitude, which reverses the seasons, gives it winter when we have summer, and so on. This also meant Australia went on daylight savings time as we reverted back to Standard time. The sun still rises in the East, but turns left to be in the North at noon then continues left for a sunset in the West. Cold winds come from the south, remember, there is Antarctica. The star configurations are upside down. And there are stars, invisible in the Northern hemisphere.
Unfortunately, we didn't see the famous Southern Cross, prominently displayed on both the Australian and New Zealand flag. In Melbourne we had city lights blot it out, and when we spent a few days out in the country on Phillip Island a full moon was the culprit. We did see the well known Orion, but I forgot to make a sketch, so I could tell weather it was upside down, unfortunately, it has certain symmetry to it to make this not obvious to the casual observer.
There are two books highly recommended to get a good first glimpse on Australia. One we found on the bookshelf of our Bed and Breakfast on Phillip Island. It is the "Short History of Australia" by Manning Clarke. The other our son Martin had just read and was passing on to us: "A Sunburned Country" by Bill Bryson. Very good and easy reading. I found the way he traveled around the country and explored cities and other places had much in common with how Traudl and I do things. The exception: every night Bill finds a bar and some beer to drink, but then he travels mostly alone.
Life in Melbourne (Nov/Dec 2004) By Gerd
Melbourne is a lot like Los Angeles, a large city, with the ocean on one side and mountains on the other. The big difference, however, is that instead of a network of freeways; it has an extensive tram and train system, which is really used by the natives. Thus there is acceptable traffic downtown, the only time we ran into a jam was leaving Melbourne and going through the ring of suburbs.
We were visiting our son, who lives about 6 miles to the northwest of town and takes the tram to work downtown. For the first week and a half, when we didn't have a car, we moved about by tram and on foot. Very soon you get the hang of it, just remember the number of the tram, in our case, 55 and the downtown street it runs on. Also you have to remember that they move on the left side of the street just like the automobiles. If you forget that, you go in the wrong direction. The weather was just perfect not too warm, but you still stay out of the sun during the middle of the day.
We went to a few museums and walked around town quite a bit. We did not make it to the highly recommended Immigration Museum but we found a copy of Manning Clark's:" A short History of Australia" at the B&B were we stayed, when visiting Phillips Island and did some reading, fascinating! One Sunday we walked along Sidney Street, a main artery, actually the road leading to Sydney, the other big Australian city. It took us 2 ½ hours, but gave us an excellent impression and picture as we made our way from the ring of suburbs, there are the inner and the outer ones, and there are so many, I imagine it would take years to really get to know them all. Melbourne, and most Australian cities are dotted with parks, you walk about a mile and you will encounter a park of some kind. Some are small but many are large and include lakes, sport facilities or playgrounds. They all have plenty benches for taking a break.
There is the Yarra River running alongside downtown, the harbor is a short distance off, and it is 35 miles to the open ocean. In that respect Melbourne is different than Sydney, where the harbor is right downtown, and the ocean is only a few miles away. We walked along the river for some distance, passing the area where the Olympics were held in 1956. One building, looked like a swimming facility. Turned out that's what it was, however, it had been converted to a basketball hall. Now it is converted back to serve again for swimming at the up coming "Commonwealth Games" in 2006.
One big feature that you do not find any more in small to medium size US cities is a huge public market, Victoria Market, covering a large city block, and located on the edge of downtown. A mix of permanent and temporary stalls offers produce, fish meats, cheese and other food products, That's the part I visited and where I took pictures. There is another non-food items part like a giant flea market where it is easy to get lost. Traudl was shopping there and noticed some xxx. When she tried to return later, she was unable to find the place again.
There is no market during the day on Wednesday, but starting at 5 PM there is the night market where on area is just blanketed with ethnic food stands. You find polish sausages, German Bratwurst, Greek shish kebab, English fish and chips, various egg rolls, sushi, and even corn on the cob. Seems also that most that live in the area or close by make it a night to eat out. Several live bands were playing and there were stands selling knick-knacks, jewelry, flowers and other items; there was also feng shui and clairvoyants telling you the future.
One night Martin took us to a horse race at the Mooney pond racetrack, which is about a 20 minute, walk from where he lives. We had had supper and a beer at a cafeteria overlooking the racetrack. There were a number of monitors showing races in other places including dog races, so something was going on at all times, and, of course, betting on the winners was a big part of it. At one time we walked outside and were only a few feet away from the track. You could see the horses coming around the track still far away then they got closer and then the were there and gone in a few seconds. It was quite a thrill to watch.
Another feature that you do not see any more in the US are streets in the suburbs that are almost exclusively lined with small shops and I mean not just a handful but several dozens and there is a the occasional supermarket. Most of the shops close at 5 PM except for the restaurants and bars. The big box stores and smaller malls are further out in the outer suburbs.
Returned From Phillip Island! (Nov 2004) By Gerd
Last night, Sun 28th of Nov, we returned from three days on Phillip Island. This Island, connected by a bridge to the mainland, is about a three-hour drive from Melbourne. This was the first time we tried out our rental car driving on the left and all went well. The hardest thing is to get used to having the drivers seat on the right, you tend to be too close to the left curb, and constantly you have to remind yourself: stay left...but not too far left. In any case, your companion on the left will remind you!
After a lunch stop and beach walk at Kilda a fashionable beach town just south of Melbourne we proceeded on our drive to the island and checked into the B&B in the afternoon. The big attraction on the island are the little penguins, and we planned to see them on the same day. Our son told us to go to the site early, but Jenny, the B&B lady, said go late. So we went "medium early"
When we got to the park at 7:30 PM, a sign informed us that the night before, the first penguins emerged from the sea at 8:45, and more than 900 were counted altogether. On the way to the beach we did see burrows, some with a sign of commotion. This being the breeding season, one mate has to stay behind during the day to sit on the eggs. Not too many people were there yet and we could select a front row seat. One hour later, however, the viewing area was packed, probably several thousand people in all. Not bad for the non-profit organization that runs the facility with government support and mandate. At the admission price they charge (full $15) they have enough money from this one operation to maintain a number of less frequented parks on the island.
As it turned out, the penguins started coming at exactly 8:45. They arrived in a few large contingents about a hundred ore more, but mostly in groups of 10 plus or minus a few. Unfortunately, even with our "front row seat" we were too far away to hear them or see them well. The binoculars we brought helped, so not all was lost. The whole landing party lasted a little over 1/2 hour and many people were leaving. So we slowly started our way back up the hill over the boardwalk.
And now we got a real treat! We soon heard the birds and did see them close left and right as they were standing near their burrows and getting ready for the night. There were also late arrivals, maybe stragglers or lonely types still wandering around. With few people left to observe, this was really neat. Also there were still rangers eager to explain and answer questions. The penguins were smaller than one expected, only about 20" tall and on land they waddle fast and coming towards you they move back and forth to the sides like they were stark drunk.
We even chanced to look up in the sky at some bright stars in search for the Southern Cross, which was still on our "to-see" list. There was another couple and the lady asked whether we knew where it was. She pointed out the "Orion" which was clearly visible, however, fairly faint, except for the three stars forming the belt. We stopped to ask a ranger, who got on his radio and asked for help with this one. Unfortunately nobody on duty that night could help. "The cross is probably behind those trees there over the hill" Oh, well, there will be a few more nights. We had earlier watched a beautiful full moon rise, which, of course, blotted out many weaker stars. Also in the description to find the "Crux" was mentioned, it is close to the Milky Way, which was, of course, not visible.
The next morning we headed south across the island (about 15km) for the open ocean coast. This would be our southern most point on our first acquaintance with the southern hemisphere. Also I was expecting a rugged, rocky, picturesque coastline, like you see it on pictures. We were not disappointed. We had come on Pyramid road, a dirt road, but in good condition. As it rains not often and it never freezes, all roads are pretty good and potholes are practically unknown. There was only one other car in the parking lot, so we had the park practically to ourselves. The attraction was pyramid rock, a basalt protrusion forming an almost perfect cone right off shore. We had seen this feature on the horizon the night before, now we did see it up close.
On the way back we stopped at a short-wave station that I had spotted earlier. A car was parked by the side of the road, so a person, maybe a ham, might be on duty!? However, the gate was locked, secured with a chain. The sign identified it as an Air Navigation Facility. Question, what was the car doing there?
Next, we stopped at a Chicory kiln, to take a look. Chicory was the first crop cultivated on this island and there are still remnants of some kilns. It was still early and we decided to take in another site. Swan Lake, the only sweet water lake on the island. Here we were the only car in the parking lot, I guess, it pays to get up early and go before breakfast. Early morning is usually also the best time to observe wildlife. We made our way through which looked like original bushes towards the lake. When we say woods, Australians say bushes, that's because really what they've got is closer to bush. Closer to the lake the path converted to a boardwalk. Suddenly Traudl detected a motionless pretty big black snake only 15 to 20 feet away. It was still there when a half hour later we came back from the lake. The boardwalk keeps you separate from the wildlife and disturbs it minimally. These wooden walks are very well maintained, in some areas, like on an incline they have chicken wire nailed to it, which gives your shoes a very good grip. At the lake two bird blinds invited us to watch. As early as we made it (8:30) that was late for the birds. Daylight starts at 5 and that's when we heard the birds sing and get active at our B&B. We still managed to see a few: there was a black swan, a couple of purple swamp hens, a musk duck and other ducks, and a blue bird with a long tail and a white belly.
Going back to the car, we also encountered a few large hares. For a moment we thought them wallabies, little kangaroos, but the large ears and the fact they were hopping on four legs said otherwise. We got to talk to a new arrival with binoculars and bird book in hand, obviously a local expert and he told us a few things about the area, even offered to take us back and point out some wallabies, knowing the spots to look out for them. We promised him to show him the black snake. Unfortunately we did see neither. The snake was gone and the wallabies stayed in hiding. We parted from our friend with the Australian salute, which is waving your hand in front of your face to ward off flies. Australian flies are smaller than the ones in the US, peskier, but they do not bite! Sometimes you see people wearing hats with corks dangling from short strings fastened to the brim, supposedly keeping the flies away.
After a hearty brunch and some well-deserved rest we visited the Koala sanctuary also located on the island and included in a package deal ticket we had obtained for watching the penguin parade! It took us a while to spot the first koala high in a tree and I thought: Oh no, not like another penguin parade from too far away! But soon we got better spotting the sleepers, it also helped to watch other people and see where they looked. We got to see some real close including a mother with a little one. Daytime is sleeping time for the koalas and even with their eyes open they appeared to sleep. Easy to photograph as they absolutely didn't move. From a "walled in" area with a boardwalk we moved to the outside and a more open park like landscape. Here the koalas are essentially free to roam and pick their tree, which they need for food; usually picking the freshest young leaves for their meals and a nice fork of that tree for their daytime rest. Here the trees that are in danger of "over grazing' are protected by a wide plastic shield that prevents the koalas from climbing up. After a while a bench under a shady bush invited us for a brief rest. Then we heard two ladies whisper behind us. They approached and ask me to take a picture of them and the koala. That's when we noticed there was a sleepy Koala right behind us in the bushes and it was possible to get a picture from as close as a few feet. I shot the picture with the two ladies and the Koala in the middle, and then shot a few close pictures with my own camera.
Our B&B had a complete kitchen and was well stocked with supplies for breakfast, but we'd have to go out for lunch and supper. So on Saturday we went grocery shopping at the one local IGA. As we stocked up with the usual sandwich ingredients we noticed that fried chicken was available, so that's what we had for supper with enough left over for next day's sandwich.
On Sunday morning, our last day, the skies looked threatening like it might start raining any moment. For a photographer this promised dramatic ocean pictures. So we went for an early morning walk along the ocean. We went further than the two previous days and got to the outskirts of town and a campground. There we met a very nice gentleman walking his dog and had a nice morning chat. Older Aussies are indeed very appreciative of Americans on account of what they did in WW2 in the Pacific; they had a real fear at the time Japan might take over their country.
After breakfast we said good-bye to our hosts and were on our way back. But we stopped at Churchill Island, a real small island connected by a narrow land bridge to Phillip Island. It is there were the first farming took place and the old farmstead, garden, fields and woods can be toured. In particular we were impressed by the ancient moonah tree forest along the shoreline, which also has interesting volcanic features. The moonah tree gets many hundred years old and there are 4,000 of them on Phillip Island.
For lunch we stopped at a park in a small village right before crossing the bridge to the mainland. There we observed another party, which prepared something in a gazebo nearby. On examination there were 4 electrically operated grills and they were using one to fry potatoes and sausages. This was provided free to anybody, you just threw a switch and for a time you had a hot plate. It automatically turned off after an adequate time.
In one of the local leaflets Traudl had detected that there was a farmers market somewhere along the way. So we kept an eye on road signs. Sure enough, after approximately 25 to 30 km we found the market. Many vendors were already packing but there was still enough activity to get a good picture, we purchased a few herbal plants for our son Martin, but other than that just looked around. I took a picture of two ladies with Santa caps and we chatted with them briefly. They were selling flowers and were about to leave. They gave us a bouquet of yellow that they said would keep even without water, just the thing to liven Martins room for Christmas.
Threading our way back to Melbourne we stopped for gas, then we got lost again, but found our way quickly and did extremely well going through downtown Melbourne and out to Martins place.
Sydney (30Nov to 2Dec, 2004) By Gerd
Our next big trip with the rental car was to Sydney, where we visited friends that live in Wollongong, about 80 km outside Sydney. Adolph emigrated there in 1955 with his family to work initially in a steel mill, tending to chores at the blast furnace. But having a solid "Schlosser" training from Germany he was soon progressing to something better. His wife later started a small business in selling all kinds of art objects and soon Adolph quit his job at the steel mill and for the next 30 years the both ran the enlarged business. On the side they acquired a completely run-down but beautifully located house on the side of a hill overlooking the town and the ocean. With great effort they fixed up and improved the house, but the real beauty is the supreme landscaping around the house, the added pool and many nooks and terraces that invite to stay and relax.
The drive from Melbourne was 800km (about 500 miles) and took us 10 hours, which included several breaks and a walk through Goulburn, the first Australian inland City. The day was unusually hot, the car's thermometer recorded 38.5 degrees Celsius, but the air conditioning in the car, an Australian built Holden Astra, kept us nice and cool. We had left early, about 7AM, to beat the rush-hour traffic, getting out of Melbourne, but we ran into some very dense and slow going on the outskirts of the metropolitan area. After having cleared that, the traffic was very light. The roads are very good. Since there is no winter freezing, potholes are just about non-existing. However, there is often some wavy surface leading to the movement of the car giving the sensation not unlike the feel of a jet in slight turbulence. Although a major part of the distance is 4-lane highway, only the last segment close to Sydney is the real freeway, as we know it in the states. There are all kinds of variations from two to three to four lane highways. The most prevalent type being the 3 lanes, where alternately one direction has assigned two lanes, then the other. The speed limit is 100km on the single lane and 110km on the two lanes. (60 rsp 65mph) There are few overpasses out on the open road and crossings (indicated) are permitted. Drivers pretty much are very disciplined and keep the speed limit. Of course, when you get closer to towns, you have the same "cowboy" drivers as in the US.
Traveling large distances you do, of course, have to stop for gas, food and a toilet break. You never know what you ran into and sometime it's a pleasant surprise, other times you get the feeling, you could have done better. At our stop in Goulburn we found a very nice Café and had a nice muffin with a cup of coffee. As we were ready to leave and looked for the "facilities, we didn't see any. Asking the waitress she pointed out the window and across the street were there was a park with toilets. Well, we went there and had a very pleasant surprise: very clean, functional, even with real bars of soap at every washbasin. I was impressed. The last time I had seen an outstanding public toilet was years ago: coming from Portland Oregon and traveling along the Columbia river there is a small park with fancy building and a toilet facility in the basement totally outfitted with marble and fancy fixtures, although over 100 years old, this was impressive! So now I can add another one to my list!
The landscape is typical Australian bush, meaning, grassland with eucalyptus trees (there are 150 different types). Occasionally you spot a wheat field or a winery. But mostly the land is used for cattle or sheep ranches, or as they call them "stations". There is no advertising along the road only official signs. It is difficult with such a monotonous landscape for the driver to stay alert, and many signs remind you of this danger. One, for instance read: the only cure for fatigue is sleep, quite true! The land is very dry, aside from the parched grass this is driven home when you cross a creek, if you see water at all, it just puddles. There are few houses, villages and towns are usually to the side of the road and are indicated as bypasses. Mountainous areas often covered with trees. However, once did we drive off to the side, and it was quite interesting. Immediately did we see birds, heard them scream, and Traudl was enthralled by the wild flowers...
Arriving at our destination we were greeted with a cold beer, and sitting by the side of the pool, we had champagne, then a fantastic dinner, prepared by Ria. At nightfall we drove down to the beach for a leisurely walk and sight seeing. We heard some cicadas with very loud and long sustained chirp. Suburban wildlife is amazing. When we arrived there was a big blue tinge lizard (abt 30") and I got a good picture, however, with no tongue showing! Adolph said it lives under the house, even has young ones. Big white cockatoos are also around, they are not well liked as they feast on flowers and can kill or decimate a plant. This is also a problem with three climbing mammals, and in cities large trees are protected by tall smooth collars of tough sheet metal, that way the animals cannot climb to the top of the tree to eat the leaves. In the wild you see dead trees that found their fate, because their leaves tasted too good to some Koala. The next morning, getting up early, I did see a parade of colorful parrot type birds; a couple of those come regularly and get their handful of sunflower seeds from Adolf.
As in all big cities, getting in and parking is a major problem. So all four of us took the early morning train, which took us right into the center of town. Although a ride of 1 1/2 hours it was worth it, we got to see from the window a few ocean front communities and we came past an immense national park, and, of course, we sneaked through the outskirts of Sydney and through a long tunnel right into the center. It was a good idea to have come early, it was only 8:15 and already the heat started to build up. We started at the old Queen Victoria Building. At one time this was planned to be torn down, but the protest by the population saved it and it is now a Gem in the center of the city. It contains various displays and a fancy clock and this time of the year a huge Christmas tree. From the many upscale shops and eateries, nothing was open yet, so fortunately for our purse, only window-shopping was possible. Then we stepped outside into the big city world of skyscrapers.
What is a tourist to make of the skyscrapers: they are impressive all right, but that's about it. At the ground level are a few shops with items for sale not for the average person and the rest is offices of insurance or such that fleece their customers in more subtle ways. Sydney has no trams any longer. At a mad moment all the existing rails were removed and now there are only buses and taxis. Already there is talk to bring the trams back. It irks the Sydneysiders when they come back from Melbourne, which has lots of trams. Somehow riding a tram is more assuring, it has to stay on its tracks, a bus can make a sudden turn and get you lost.
We made our way our way along Pit Street towards the harbor where the ferries and tour boats leave. From there you have the familiar sights of Sydney, the skyline, the opera and the big bridge. This bridge, which connects downtown with North Sydney, is massive, so its size is not so apparent unless you get closer. I realized this when we spotted a few of the "bridge" climbers, which looked like ants. Btw, climbing the bridge cost you a cool $ 130.
After some deliberation we decided to take the ferry to Manly, a beach town, not unlike Santa Monica in California, at the mouth of the harbor. The half hour ride would give us a good view of the harbor and we had our friends to give us the details of what we were seeing like on a tour boat. The Sydney harbor is big, reminds one of a fjord in Norway, the first explorers reported that one thousand sail ships could be accommodated with easy access to the land. At Manly we made our way along the street leading to the ocean beach lined with many little shops, very inviting for the ladies to do some bargain hunting. At the beach we did see a few souls braving the hot sun and getting cooled off by the refreshing ocean water. On the way back we had a bite to eat at a Greek restaurant, and then boarded the ferry back to Sydney. This time we did see not one but two ships coming in from the ocean, one smaller with mixed cargo and one big container ship. That reminded me when we at one time almost waited a whole morning for a ship to come in (it didn't) at the great lakes Duluth harbor.
Back in Sydney we boarded the train for a comfortable air-conditioned ride home to Wollongong. We arrived at 3:30PM in time to take a short refreshing nap before the obligatory German "Kaffee und Kuchen" (coffee and cake). The rest of the afternoon and evening went in no time with story telling and leafing through a voluminous album with pictures from the many trips our hosts had taken through the backcountry with their 4wheel drive VW van. Right there we learned a lot and did study the pictures of Australia's vast interior. Whished we were 20 years younger, we might embark on something like that ourselves.
Our return trip the next day was uneventful, except it started in a light rain and we did need the windshield wipers and had to turn the lights on. Btw Australia does not have daytime running lights. This time we stopped for lunch at the border of New South Wales and Victoria, the twin cities of Albury and Wodonga on the Murray River. We selected the Red Rooster fast food place, which was obviously some competition to Kentucky Fried Chicken. We found it very good, had a European style sandwich, called baguette and coffee. BTW they serve coffee in great variety with all kinds of names, but Traudl knew what to ask for. Chicken is the main meat in Australia and it is good.
We also got to see two kangaroos by the side of the road, however, they had become victims of the traffic, sorry to say. Kangaroos are like our deer, there are a lot, but you do not get to see them often. As we went back into town, traffic was moderate as we were going in versus most traffic was heading out. We were glad the 1000-mile trip had gone off without any bad surprises.
Page updated November 22, 2017 07:29:47 PM