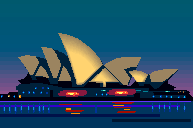 TRAVELINGOZ .COM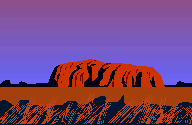 AUSTRALIAN TRIP CHECKLIST
[Print]
This page contains my Australian trip checklist. When you go on a trip such as this, especially for the first time, a checklist is just about as essential as your plane ticket. You don't want to forget anything. I'll try to cover every possible item. I will add to this list as needed. If you want to add an item that is not on the list below, feel free to send me an email. The list is in random order. See my travel tips page for related information. Please print this page for your records before you leave and check off each item for each person traveling with you. Maximize this window for better viewing.
1 ) Your Passport, drivers license or State ID.
2 ) Your Australian entry Visa or, your Electronic Travel Authority.
3 ) Your plane ticket if not an e-ticket.
4 ) Your traveler's checks, credit cards, and some cash. If you have Australian money or coins, this is preferred.
5 ) Any Australian travel books or guides.
6 ) Confirm any hotel, plane, or rental car reservations. If you are with a tour group, check with the travel company.
7 ) Call to check in with any friends or relatives waiting for your arrival in Australia. Including friends picking you up at the airport.
8 ) Check your email and voice mail for any last minute communications.
9 ) If you have a laptop, check all accessories for 240 volt use. Update it with the current software updates.
10 ) Check other electronic items for duel voltage. (Shavers, radios, camcorders, GPS receivers, cameras etc.)
11) Several days before you leave, make a trip to your local U.S. Customs office to register anything with a serial number.
12 ) Your prescription medicine. Along with a letter from your doctor(s) for these medicines.
13 ) Pack essential items in your carry on bags. (Medicine, valuables, eye glasses, money, documents etc.)
14 ) Pack as light as you can. Heavy luggage can be a problem. (You have 2 checked bags, 1 carry on, and 1 personal bag.)
15 ) Your travel insurance policy information and paperwork. Including the medical policy.
16 ) Your United States based medical insurance information.
17 ) Add an extended absence greeting to your cell voice mail telling callers you will be away or unable to reply.
18 ) Give Australian contact information to all people who need it. (Hotel numbers, friends, mobile numbers etc.)
19 ) Secure your home, set any alarms, call the local police department and get added to the "vacation list".
20 ) Stop delivery of your mail, newspaper, and trash collection.
21 ) Turn off all non essential household items before leaving. Set your heat and / or air conditioner to minimum.
22 ) Use Light timers in various locations in your home.
23 ) Have neighbors or friends you trust to watch your home. Give them a key if needed to feed your fish, your pets etc.
24 ) Kennel your dogs or cats.
25 ) Empty your refrigerator of all perishables.
26 ) Call your satellite, cable, or satellite radio service to get them on vacation service. No need to pay for service you can't use.
27 ) Set up your bills for auto pay to be sure they are covered and paid during your absence before the due dates.
28 ) Have a service or neighbor take care of your lawn during your absence.
29 ) Set up a doctor or dental appointment before you leave to take care of any issues.
30 ) Set up a calling card account in case people need to reach you in Australia. Such as Pennytalk.
31 ) Clean your house and change your bedding. It's great because you won't want to do it after you return home.
32 ) Do any remaining laundry. Again, because you won't want to do it on return.
Page updated April 26, 2010 06:52:08 PM